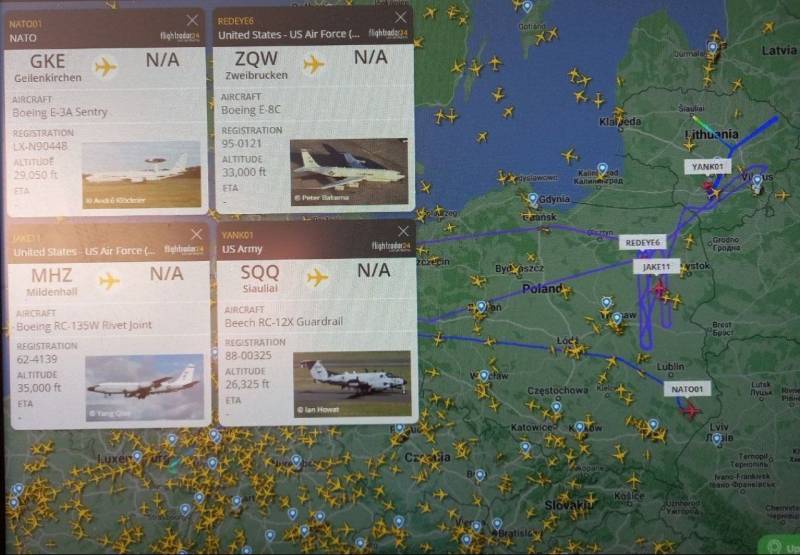 The strengthening of the joint Russian-Belarusian grouping of troops aroused genuine interest among the countries of the North Atlantic Alliance. A day after the arrival of military echelons in Belarus with
technique
and overflights of Russian MiG-31s ​​over Minsk, reconnaissance aircraft immediately took off from four NATO military airfields.
As can be seen from the screenshot from the FlightRadar24 website, electronic reconnaissance aircraft monitor the situation on the borders of the republic for several hours. Reconnaissance is carried out especially carefully on the Belarusian-Polish border. Here, the reconnaissance Boeing RC-135W is paired with a Boeing E-8C combat control and target designation aircraft. Less attention has been paid to the Lithuanian border, with only one obsolete Beech RC12X electronic reconnaissance aircraft seen here. Another reconnaissance Boeing E-3 Sentry, having taken off from the German base Geilenkirchen, turned around near Lvov and returned to its starting point.
According to the statements of the Ministry of Defense of Belarus, overflights of foreign reconnaissance aircraft are recorded regularly.
Every day, military aviation around the Republic of Belarus in the adjacent territory performs from 60 to 100 sorties. Every day, every day, we record reconnaissance aircraft flying along the state border
- said the commander of the Air Force and Air Defense of the Armed Forces of Belarus Igor Golub.