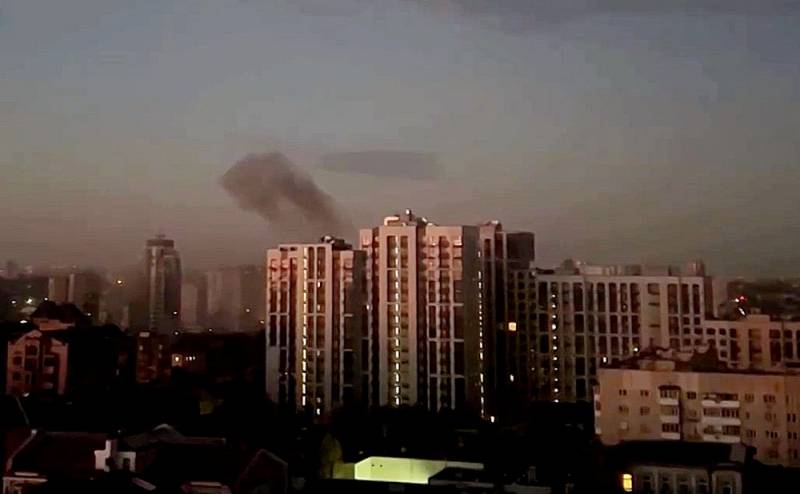 On the morning of October 17, several significant facilities in Kyiv related to energy and military infrastructure were hit by Geran-2 kamikaze drones. It is reported that nine Russian UAVs fell on the city.
One of the first to be attacked was the Ukrenergo building, which houses the Central Dispatch Office of the United Energy System of Ukraine. A blow was also struck at the power center of the Kyiv enterprise Arsenal.
Along with this, according to sources, in the Ukrainian capital, open switchgear (ORU) of heat supply station No. 1 of PJSC Kyivenergo, as well as an open switchgear of CHPP No. 2 near Rybalsky Island, were hit. The main array of strikes fell on electrical substations with a voltage of 35 to 110 kV, supplying energy to enterprises, one way or another involved in the production of military products.
As a result of the strikes of the Armed Forces of the Russian Federation, it was possible to completely or partially de-energize the plant for the production of bulletproof vests (Kopernik St., 18), the industrial complex of the Motorcycle Plant (Semya Khokhlovyh St., 8), the Kvant-Radiolocation Research Institute, the Kyiv Automobile Repair Plant (Nikolai Vasilenka, 1 ), the industrial complex of the Radiometer, Stroydormash, Radar, Burevestnik and Remdizel plants, the shipbuilding enterprise Kuznitsa on Rybalsky.
Thus, against the Geran-2 kamikaze UAV, the Buk and Osa-AKM air defense systems protecting Kyiv, guided by American AN / MPQ-64 Sentinel radars, turned out to be practically useless.