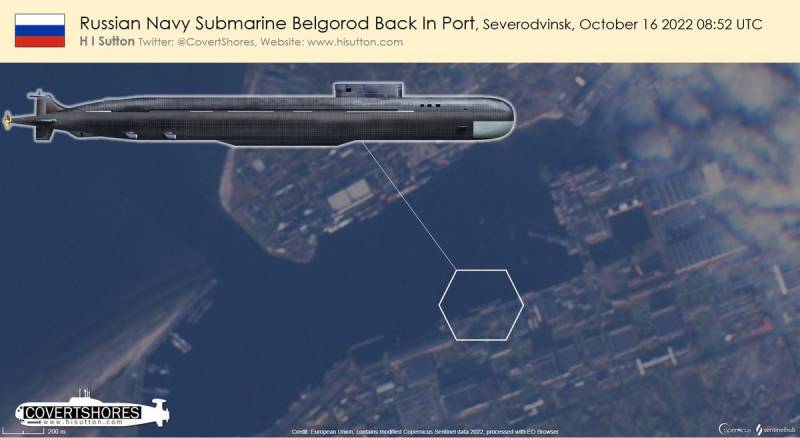 Nuclear submarine "Belgorod", equipped with "doomsday torpedoes" "Poseidon", returned to its home base in Severodvinsk. This is evidenced by current satellite images.
The exit of Belgorod from the base and the further disappearance of the submarine from enemy radars caused a real stir in the Western media. History remembers episodes of the sudden appearance of Russian submarines in the Western Hemisphere. So, in 1983, in the Sargasso Sea, 38 miles from the US Navy base Jacksonville, the Soviet submarine K-324 surfaced with nuclear missiles on board.
The Belgorod maneuvers, invisible to NATO satellites, became the reason for hysterical publications in the West. The Italian La Republica excelled in this, writing in its publication about the possibility of the missing nuclear submarine with one Poseidon strike to destroy a city the size of London or Los Angeles. The North Atlantic Alliance also announced a general alarm, sending out a warning to all allies about a possible test launch of super-torpedoes.
Two weeks later, the nuclear submarine "Belgorod" was lit up on NATO satellite radars, safely returning to its permanent home base. The training maneuvers of the submarine crew became a demonstration of the capabilities of the Russian deterrent weapons and showed the imperfection of the intelligence of the NATO countries.