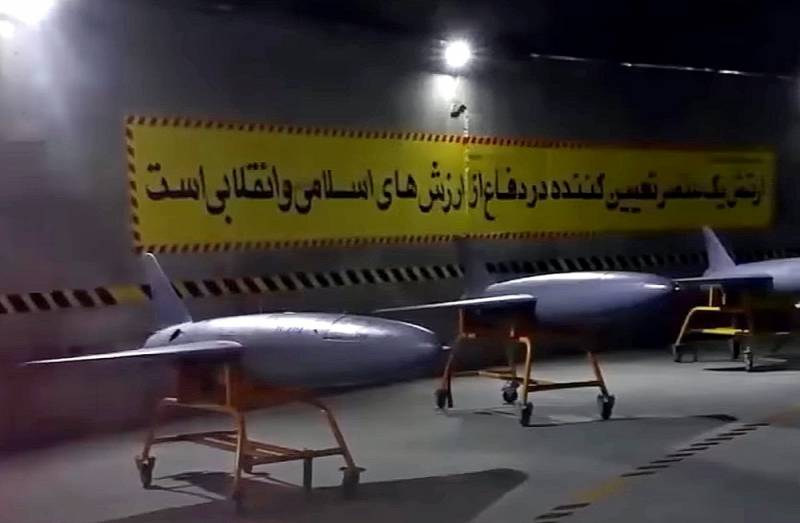 Cooperation with Iran has a positive effect on the course of the NWO. Geraniums, being, in fact, Iranian Shahed-136 UAVs, last week effectively hit a number of infrastructure facilities in Ukraine. At the same time, it is likely that in the near future a batch of larger Arash-2 kamikaze drones will be at the disposal of the Armed Forces of the Russian Federation.
The exact characteristics of the new Persian drone are classified. It is known that the Arash-2 is capable of carrying a much larger mass of explosives than the Shaheda. The declared flight range of 2000 km allows strikes against any object on the territory of Ukraine. In terms of its capabilities, this drone is practically not inferior to high-precision cruise missiles, but at the same time it costs significantly less.
Arash-2 is equipped with two automatic targeting systems - inertial and satellite. If the satellite signal is jammed, the UAV will still hit the target object. New drones can be effective primarily for combating enemy air defenses. Having a low production cost, the Arash-2 salvo will be able to overload the air defense of the Armed Forces of Ukraine.
It is worth noting that the Iranian military has not yet used the Arash-2 in combat. Therefore, it will be possible to speak about the effectiveness of these UAVs only after they are used in the NWO zone. The "Russification" of Persian drones by analogy with the "Geraniums" is not excluded.