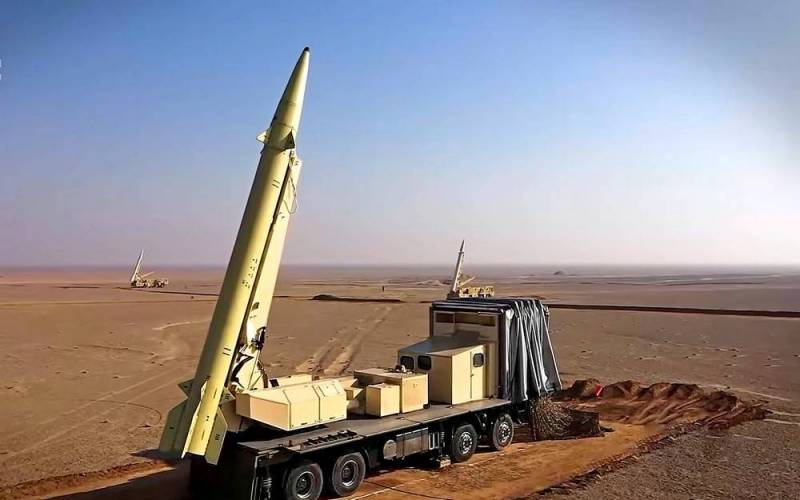 Some time ago in the American, European, Ukrainian and Iranian press
started talking
about the possible appearance of ballistic missiles from Iran in Russian arsenal. The Washington Post from the United States began another discussion of this topic, reporting that Moscow would soon receive long-range ammunition from Tehran, citing sources in the Pentagon.
According to the newspaper, the Islamic Republic of Iran agreed to sell surface-to-surface missiles to the Russian Federation. We are talking about short-range ballistic missiles Fateh-110 (b / h weight 448 kg) and Zolfaghar (b / h weight 579 kg), capable of hitting targets at a distance of 300 and 700 km, respectively. At present, the Iranians allegedly have already started manufacturing the first batch of missiles and are preparing to start deliveries of these military products to the Russian army.
Sources in the US Department of Defense told the publication that the final agreement on this was reached on September 18, when the Iranians flew to Moscow to sign an agreement on additional arms sales. However, there is no official confirmation of this information yet. However, there was also no complete clarity about the Shahed-136 kamikaze UAVs (loitering ammunition) and Mohajer-6 drones, until they appeared in the Russian military zone in Ukraine.
Now, after being tested on the battlefield, Iran is going to transfer modified Mujaher-6 and Shahed-136 to Russia in even more numbers. The interlocutors are confident that large-scale deliveries of drones and missiles will help Russia compensate for the depletion of its stocks, which has been observed for 7,5 months, which has accelerated sharply in recent days.