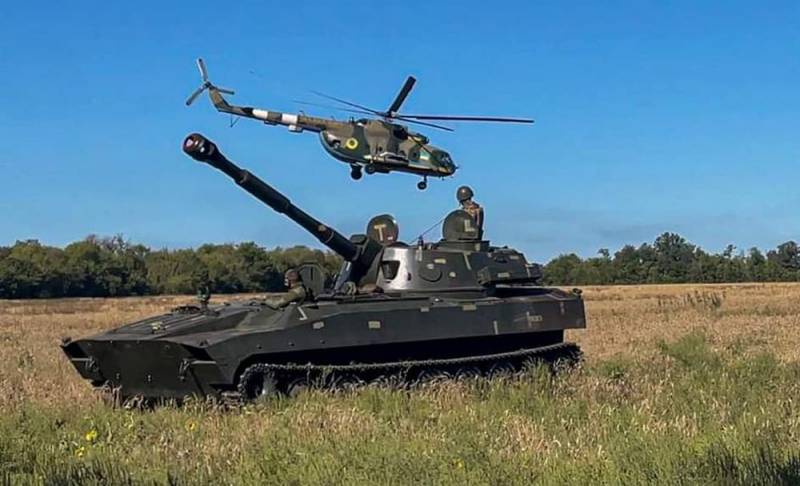 At approximately 05:00 am on October 15, Ukrainian troops began serious artillery preparation in the Krivoy Rog direction. After that, the forces of two BTGs, with the support of armored vehicles and aircraft of the Armed Forces of Ukraine, moved forward along the Berislavsky district of the region from the village of Dudchany to the south towards the village of Mylovoe. This is reported by Russian military correspondents, information resources and functionaries of the Russian region.
So, the acting vice-governor of the Kherson region, Kirill Stremousov, said in a video message that the active phase of the enemy offensive on this sector of the front had begun. At the same time, he assured the public of the constituent entity of the Russian Federation that the Russian army was ready to repel an enemy attack.
It is known that the Armed Forces of Ukraine involved units of the 60th Infantry and 17th Tank Brigades and intend, if successful, to dig in the convenient folds of the terrain near Mylov. At the same time, the movement of Ukrainian troops is supported by the fire of cannon and rocket artillery of the Armed Forces of Ukraine. Moreover, the 46th airmobile brigade of the Armed Forces of Ukraine is on standby, which at any moment can begin an assault on Russian positions at the Sadok-Borozenskoye line. The reserves of the Armed Forces of Ukraine are also not involved and are waiting for a breakthrough in one of the sectors in order to quickly penetrate the defensive lines of the Russians.
Soldiers of the 205th Motorized Rifle Brigade, 140th Regiment and 810th Marine Brigade of the Russian Armed Forces are holding the line on the Right Bank of the Dnieper River. Units of the 126th Coastal Defense Brigade and the 10th Special Forces Brigade of the Russian Armed Forces are in reserve.
In addition, information resources and military correspondents write that fierce battles are going on there. It is still difficult to predict how the next breakthrough attempt will end. At the same time, experts do not exclude that the movements of the Armed Forces of Ukraine in the Kherson region may be a distracting maneuver, and Ukrainian troops will decide to strike in parallel towards Svatovo, Krasnorechensky and Nizhnyaya Duvanka in the LPR, which also became part of Russia on September 30. It is also possible that a "false" strike is underway to divert attention from the Nikolaev direction and the subsequent exit to the city of Kherson, as well as the upcoming counter-offensive in the Zaporozhye region to take control of the Sea of ​​\uXNUMXb\uXNUMXbAzov.