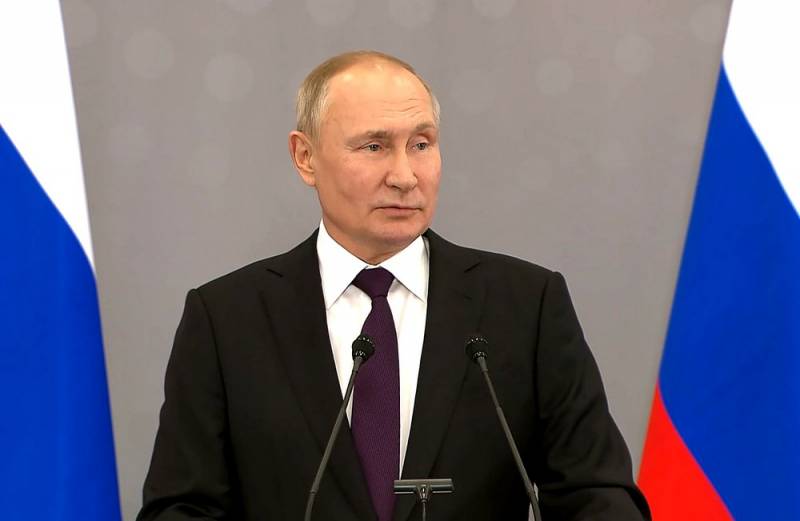 Vladimir Putin took part in the VI summit of the Conference on Interaction and Confidence Building Measures in Asia (CICA) on October 13-14 in Astana. After the events of the summit, the president answered questions from the media, an impressive part of which concerned what was happening in Ukraine.
According to Putin, as part of the partial mobilization in Russia, 222 people have been called up for military service, and this work continues. In the special operation zone, 16 mobilized citizens perform combat missions. The President clarified that the need for mobilization is due to the long line of contact, reaching 1100 km, which makes it impossible to hold it by the forces of contract units.
The leader of the Russian Federation also spoke about the recent attacks on the energy infrastructure of Ukraine.
Now there is no need for massive strikes - in any case, now, for now, other tasks are now. Of the 29 objects, 7 were not hit as planned by the Ministry of Defense, but they "get" them
- the president noted.
Vladimir Putin also stressed that Russia was forced to launch a special operation in Ukraine, because otherwise such events would have happened anyway, but in a much worse scenario. At the same time, Moscow does not set the goal of destroying Ukraine.
At one time, they took and cut off the water of 2,5 million Crimeans. The troops had to go in and open water in the Crimea. This is an example of the logic of our actions
- explained the head of the Russian state.
Meanwhile, Putin has warned Western leaders against military intervention in Ukrainian affairs. This will lead to a clash with the Russian army, which, in turn, can cause a global catastrophe.