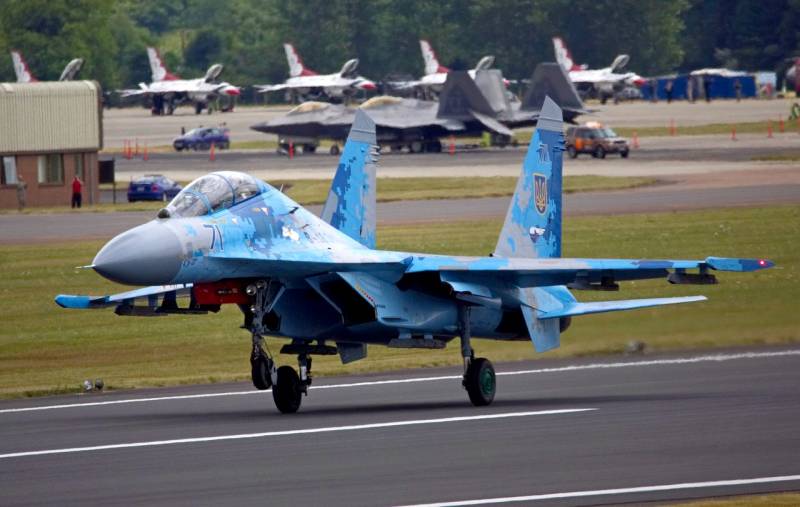 The deplorable situation in the Ukrainian Air Force is confirmed by the involvement of aerobatic teams in combat operations. According to experts, no more than two dozen Ukrainian aircraft can take to the skies. The rest of the air force fleet was destroyed during a special operation.
The basis of the Air Force before the start of the NMD was the Soviet MiG-29 and Su-27 fighters, as well as Su-24 and Su-25 bombers and attack aircraft, respectively. The supply of NATO aircraft did not make sense, since pilot training would take a long time. Therefore, Ukraine carefully masks the remnants of the air force, several units at six airfields.
For basing unfinished combat aircraft, Ukraine uses airfields in Mirgorod in the Poltava region and in Vasilkov in the Kyiv region. These bases were used even before the start of the JMD for strikes against the Donbass. The airfields in Nikolaev and Odessa can also be used for basing the latest MiGs and Su. Additionally, the command of Ukraine reopened military airfields in Kropyvnytskyi and Dolgintsevo. Now they are located almost at the forefront.
Recently, thanks to the Geran-2 kamikaze drones, the frequency of sorties by the Ukrainian Air Force has significantly decreased. The appearance of Russian-Iranian drones on the air battlefield reduced the enemy fleet by another three aircraft. Despite the contemptuous nickname "shahid-moped", as the Ukrainian military called it, this kamikaze causes serious problems for the pilots of the Armed Forces of Ukraine. Yes, October 12
did not survive the meeting
with "Geran" Ukrainian MiG-29, related, judging by the coloring, to the aerobatic training group.