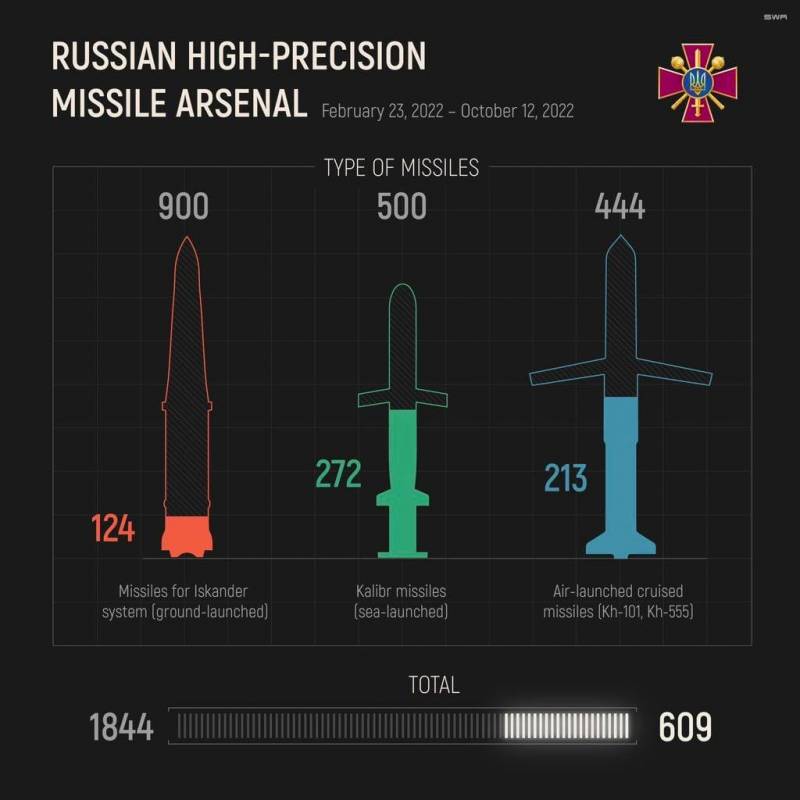 The General Staff of the Armed Forces of Ukraine decided once again to amuse citizens with hopes for the depletion of Russian arsenals. At the beginning of the special operation, attempts to count the Caliber and Iskanders in the bins of Russia were made at the Pentagon. American intelligence officers claimed that the "Caliber" would end by March 20 of this year. After the recent active shelling of Ukraine's infrastructure, Ukrainian intelligence officers also decided to start counting missiles.
Information about the number of missiles is absolutely secret. Only the Ministry of Defense and a number of high-ranking Russian
politicians
. But enemy scouts were able to calculate, to within one, the remnants of precision-guided missile munitions in the Russian army. So, before the start of the special operation on February 24, according to the General Staff of Ukraine, the RF Armed Forces had 900 missiles for the Iskander-M OTRK, 500 Caliber missiles and 444 Kh-101 (Kh-555) missiles. According to the results of almost 8 months of the NMD, the stocks of missiles were allegedly reduced to 123 units in the case of the Iskanders, to 272 with the Caliber and to 213 with the Kh-101.
In total, according to Kyiv, Russia had 1844 units of high-precision weapons (this also includes aerial bombs, smaller-caliber missiles, etc.).
In his optimistic calculations, the enemy, apparently, did not take into account the production capacities of the Russian military-industrial complex. In peacetime, the volume of production of "Caliber" could be up to several pieces daily. With the transition of military enterprises to work in three shifts, it is logical to assume that the volume of production has increased many times over, and the arsenal spent since the beginning of the SVO is quickly replenished.