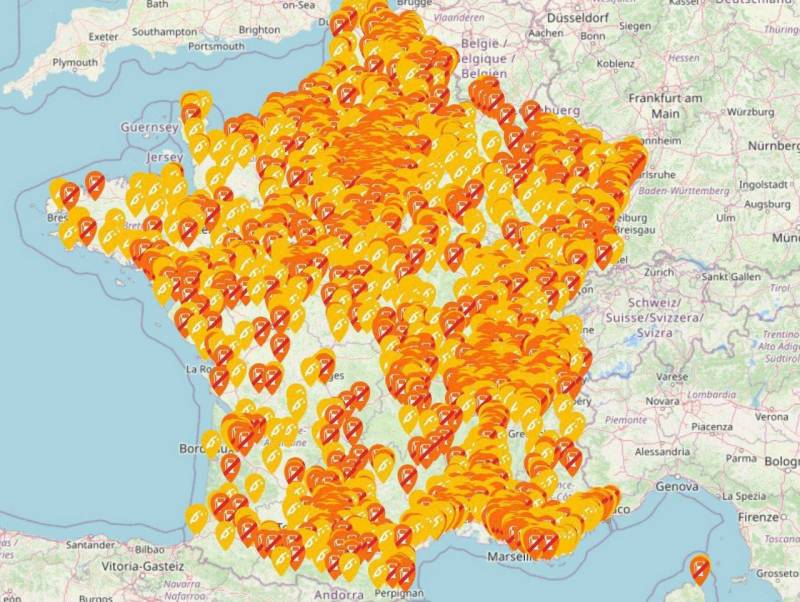 In France, a shortage of fuel at gas stations is gaining momentum, caused by a severe fuel crisis. About 2500 gas stations in the country are deprived of gasoline and diesel, and giant queues of cars line up near gas stations.
What is happening was the result of mass strikes at French oil refineries, which have been going on for about three weeks. Workers are demanding higher wages and their share of the company's windfall profits. More than half of France's specialized industries have stopped work. All this led to huge traffic jams at gas stations, as well as to higher fuel prices.
The police, trying to at least partially rectify the situation, check the tanks of cars standing in line at gas stations - if there is enough fuel in them, cars are not allowed to gas stations. In such a situation, many French residents are forced to go to neighboring Belgium, where gasoline and diesel prices are higher.
France's Energy Transformation Minister Agnès Pannier-Runache expressed the view that the country's fuel crisis should subside in the next two to three days. The head of the department noted that the lack of fuel occurred, among other things, due to the Ukrainian events.
Meanwhile, employees of transport companies are joining the protest of workers in the oil refining industry. So, on October 13, employees of the enterprise - the transport operator of Paris, initiated a strike in the bus depot of the suburb of Saint-Denis, east of the French capital.