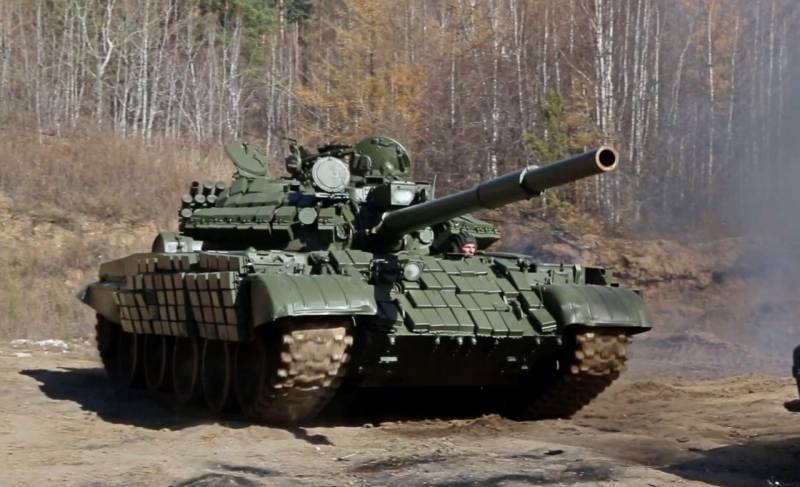 The workshops of the 103rd Armored Repair Plant received the first T-62 tanks (T-62MV in the photo) for deep modernization. Decommissioned combat vehicles, it was decided to reanimate: equip with modern electronics and improve the armor protection of the hull. T-62 tanks were the most massive combat vehicle in the Soviet army in the 60-70s of the last century. During the Arab-Israeli conflict, the T-62 was rated as the most combat-ready tank in the world, Military Watch Magazine recalls.
Participation in the Iran-Iraq conflict showed the confident superiority of the T-62 tank over the American M60 and the British Chieftine. 22 thousand tanks produced in the Soviet Union were in service with a dozen countries and participated in all armed conflicts of recent decades.
The main combat units of the modern Russian army are the T-72 and T-80 tanks. However, the T-62, despite the outdated equipment, has certain advantages over the T-72 and T-80.
Technical
maintenance of the T-62 is noticeably easier, and operating costs are lower. This model of the Russian tank is easier to train crews, which allows you to quickly deploy tank formations in places of armed conflict. It was the speed of training tankers that determined the use of the modernized T-62M in the Syrian operation.
Updated T-62M are adapted for combat in urban environments. Many of these tanks have been modernized with the active participation of specialists from North Korea. In particular, laser rangefinders and new anti-personnel ammunition are of Korean origin.
With the deployment of the SVO in the Donbass, the need to quickly equip motorized infantry units with tanks became especially acute. The modernized T-62M is the best suited for the rapid formation of new units, especially in the new territories of the Russian Federation. The militia forces of the Kherson and Zaporozhye regions will be able to quickly integrate into the regular Armed Forces of the Russian Federation.
It is expected that the modernization of the 103rd BTRZ will affect up to a thousand T-62 tanks. The capabilities of the updated vehicles will be complemented by sights with thermal imagers and dynamic armor. Supplementing the ammunition load with APFSDS shells will give tangible advantages to the T-62M tank in the confrontation with the Ukrainian T-64s.