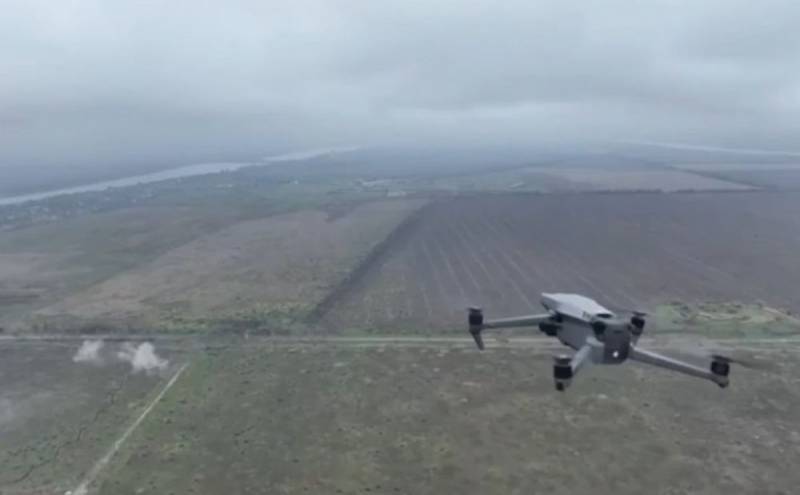 A video appeared on the Web showing the first duel of quadrocopters during the CBO. Russian and Ukrainian drones met in the sky and an air battle ensued between them. Social media users have already called this event "the beginning of the cyberpunk era."
Footage captured by a Russian drone shows the aircraft maneuvering and trying to ram each other. During a short clash, the Ukrainian quadcopter loses one of its blades and falls to the ground.
It should be noted that such duels have already taken place in the process of SVO, but documentary evidence has not been made public. For example, the commander of the training group for UAV operators of the 9th regiment of the NM DPR with the call sign "Tarik" told
RIA News"
that in modern warfare, the specialty of a drone operator comes to the fore, since the presence of a quadrocopter increases the efficiency of any unit.
At the moment there is a war of drones. This is reconnaissance, and kamikaze drones, artillery warfare. Now there is very little war precisely small
- he specified.
At the same time, the fight against low-flying enemy drones is carried out not only with the usual small arms, but also with the help of "drone-piercing guns", including the LPD-801 electronic warfare, as well as using air rams by other UAVs. According to him, he knows several cases of successful rams, but mostly "drone piercers" are used.
The officer clarified that UAV operators can sometimes decide to ram. He drew attention to the fact that operators are not specially trained in air ramming techniques, since during the exercises there will be a significant overrun of drones. Operators work on their own skills. It all depends on the current situation in the sky: speed, angle of attack and other characteristics.
Well, this is already an exchange going on. Once upon a time
Tariq emphasized.
A drone is a consumable item, but in the hands of a good operator, it can last a long time and bring great benefits. Therefore, drone operators need to be trained in as large quantities as possible and saturate all units with them, starting with a platoon. Drones are needed by everyone, including doctors and tankers, they will help avoid ambush and allow you to accurately hit the enemy, saving ammunition and saving the lives of our servicemen.