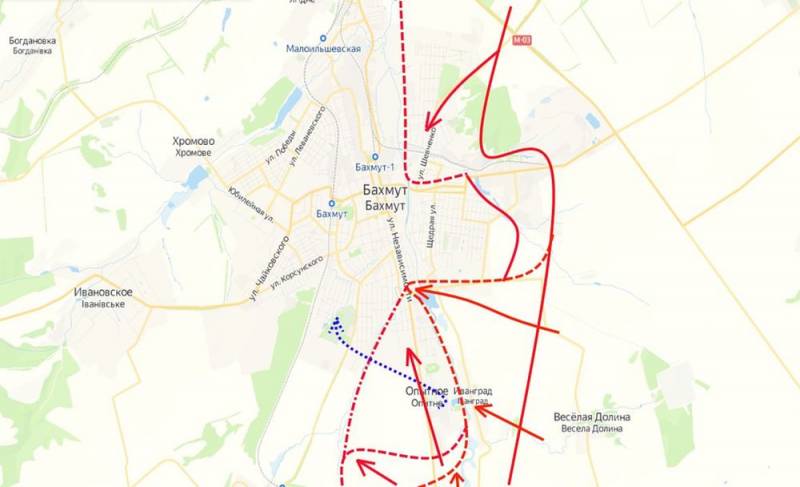 On the evening of October 12, there were unconfirmed reports of a breakthrough in the defense of the Armed Forces of Ukraine in the area of ​​​​the city of Bakhmut (Artyomovsk) by fighters from the Wagner PMC. After that, the experts started talking about the beginning of the evacuation (withdrawal) of the Ukrainian army from this strategic settlement in connection with the negative consequences for them from the approaching and surrounding Russian troops, but there was still no clarity in what was happening.
On the morning of October 13, Russian expert Boris Rozhin described the situation on his Telegram channel, referring to Yevgeny Prigozhin.
Prigozhin said that the village of Ivangrad was completely taken and cleared by the fighters of the Wagner PMC. Experienced has not yet been taken - heavy battles are going on for it. Experienced is the last settlement before the southern outskirts of Artemovsk - then the city itself begins
Rozhin said.
Almost simultaneously, a publication appeared by Russian expert Yuri Podolyaki, who has his own sources of information.
Last night, the enemy, whom the units of the "musicians" (PMC "Wagner" - ed.) By that time had already covered from three sides, left n. Experienced, which, in fact, has long merged with the city and became its integral part. And now the situation in this direction looks something like this ...
- he clarified, attaching a map to the publication, which, in his opinion, can reflect reality.
How reliable this information is will become known in the coming days, because we are talking about the fact that Russian troops crossed the Bakhmutka River, the main water obstacle not just in this sector of the front, but in the entire direction from Seversk to Gorlovka.