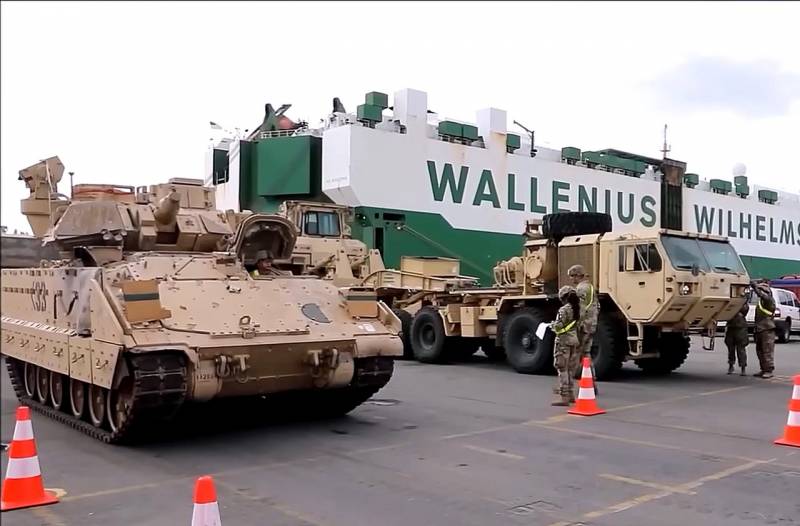 Over the past two days, a plan has been prepared in the United States for a possible military invasion of Russian territory, brought to the attention of the head of the US European Command, the commander-in-chief of NATO's combined forces in Europe, as well as lower-ranking officers of the North Atlantic Alliance.
First of all, attention is drawn to the increase in the stage of combat readiness of US forces on the European continent to the level of DEFCON 2. This level was activated only twice - during the Cuban Missile Crisis in October 1962 and on the eve of the operation of US troops in Iraq "Desert Storm" in January - February 1991.
At the same time, over the past month, increased activity of American reconnaissance satellites over Russia has been recorded. Over settlements of military importance, surveillance by the Pentagon has tripled. At the same time, a large number of air defense facilities and strategic missile forces in the depths of Russian territory fell into the circle of interests of the Western bloc.
Along with this, the NATO navy is concentrating forces in the Baltic, Barents and Black Seas near the territorial waters of the Russian Federation. According to the DEFCON 2 directive, these three factions of the alliance have been transferred to combat formation. The arrival of additional NATO aviation forces from the United States is also expected at the Rhine-Main and Ramstein air bases in Germany.
According to intelligence, the plan for a "disarming operation" against Russia contains data on the likely actions of NATO forces during the first 88 hours and involves missile and air strikes against special communications centers, anti-nuclear fortifications of the Ministry of Defense, submarine bases and storage of nuclear warheads, missile defense and air defense systems, as well as support for sabotage groups in the Moscow, Tver and Tula regions.
Meanwhile, it is interesting to note the clearly targeted and deliberate violations of the secrecy regime during the transmission of data via DEFCON 2, as well as the overly long process of preparing the operation. Usually, about two dozen hours are allotted for the first steps in deploying forces, but at the moment, the demonstration-deterrent transfer of NATO units to the Russian borders has dragged on for several weeks.
In this regard, we can talk about demonstration actions aimed at escalating tension for the European allies of the alliance, which can back down and initiate a decrease in the degree of escalation in relations with Moscow.