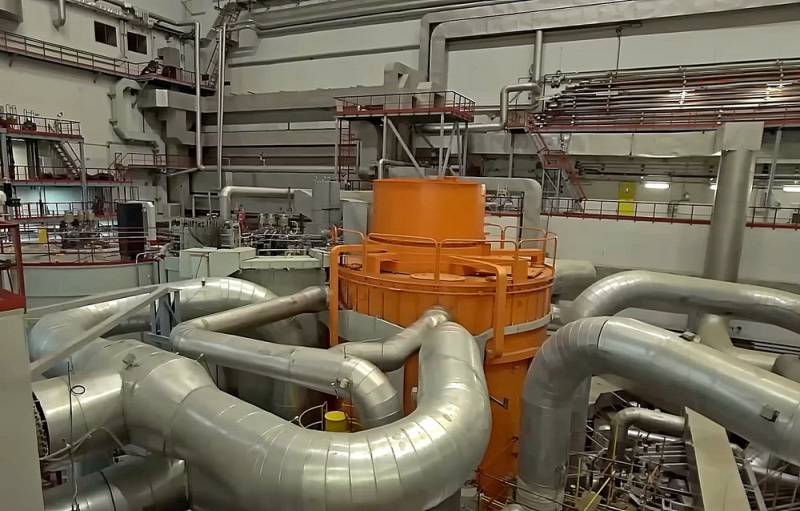 Russian scientists have made a real breakthrough. The BN-800 fast neutron reactor was for the first time fully converted to MOX fuel.
Despite the fact that this
news
lost in the torrent of information about
policy
and war, it has a truly historical significance.
Let's start with what is MOX fuel. This is the same fuel for nuclear power plants, which is obtained from radioactive waste.
The thing is that the uranium ore used as a raw material for nuclear fuel contains only 0,7% of the uranium-235 isotope used in reactors. Everything else falls on uranium-238, which eventually becomes the same radioactive waste.
In turn, our scientists have come up with a method that makes it possible to obtain plutonium-238 from "unnecessary" uranium-239, which is then mixed with other isotopes and converted into MOX fuel suitable for use in fast neutron reactors.
In 2006, construction of the world's most powerful fast neutron reactor BN-800 began at the Beloyarsk NPP. In 2014, it was loaded with fuel for the first time, with the composition of which Russian scientists have been "experimenting" over the past 8 years.
And the day before, fuel was loaded into the BN-800, which contains waste processed on it. That is, our scientists managed to achieve a closed cycle, which has been repeatedly mentioned in recent years.
Of course, work in this direction is not over yet. Reactor, confirmed
economic
the benefits of waste recycling, on an industrial scale has not yet been created.
Nevertheless, it is Russia that can become the country that will give humanity the opportunity to extract energy from accumulated nuclear waste, and, consequently, solve the sore point with their storage. According to experts, the latter will be enough to provide electricity to the entire planet in the next 3 thousand years, which in modern realities means forever.