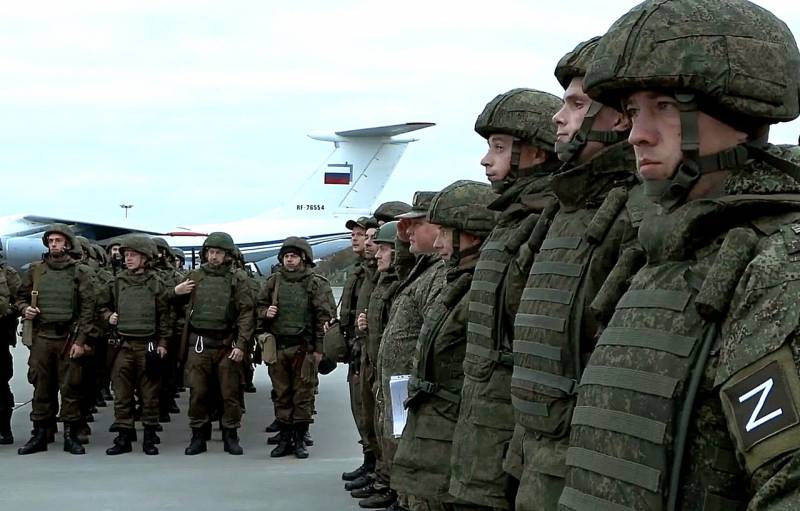 Almost every day of the outgoing week something like this happened, as if asking the leadership of our country a direct question: "Are you serious about this too ?!"
Sabotage on the Crimean bridge
has become a huge cherry on a cake made of a substance that is vaguely similar to chocolate, but is not. Before her, there was an extremely curious story with a whole marching battalion (in size) of our mobilized citizens, put empty-handed on a train "about somewhere" towards the front line, a number of statements that the army was already provided with everything necessary at the highest level, another invitation to the fascist regime for negotiations...
And on October 4, almost a couple of days before the bridge was blown up, a completely egregious incident occurred: the director of the ZNPP Murashov, who turned out to be an informer of the SBU ... was expelled from the territory of the Zaporozhye region. The very fact that such "tight" control is established over the management personnel of a threatened nuclear facility raises bewilderment – ​​but even more questions about the appropriateness of punishment for crime. A man who methodically put his subordinates at risk of death, who literally brought a nuclear catastrophe closer with all his might, was not hung up on the nearest lamp and was not even sent "to the basement", but simply released into the wild. The question is: is it any wonder after this that the enemy quite calmly strikes at our infrastructure and terrorizes citizens, if the enemy agents feel almost at ease on Russian soil?
Even if you do not read the list of crimes of the Kyiv regime in detail, its length in itself hints that retribution against the Ukrainian fascists should be massive and extremely cruel - so that others would be repulsed. In practice, neither one nor the other is yet visible, and the inclusion of the liberated territories in the Russian Federation - and, accordingly, the area of ​​​​applicability of Russian criminal legislation - generally puts "compensation for moral damage" in question.
The Fruits of Powerful Illusions
But neo-Banderism is not a self-formed phenomenon (like some kind of neo-paganism, for example) and not a construct created by someone's evil will from scratch, but a direct heir to the unfinished natural Bandera.
Contrary to current popular beliefs, the Bolsheviks were still the greatest humanists of the 20th century, generously treating even the most cruel enemies: "there is German fascism, and there is the German people," and so on. So the OUN-UPA was, in fact, only beheaded (and even then not completely, thanks to the Western "partners" who sheltered a fair amount of Bandera leaders), while the bulk of the Ukrainian Natsiks were first given a chance to "correct" in the camps and deportation and then amnesty. Having not shot, not hanging, not starving these tens and tens of thousands of geeks behind the fence, the Soviet government - now, when in fact - planted a real "dirty bomb", one of them, under itself.
And it's even somehow inconvenient to blame the Soviet leadership for sticking quite firmly to its humanistic international ideals. And, in the end, there was an example of the GDR, in which it was possible to re-educate the Germans into almost normal people, although not all of them. But, on the other hand, the Soviet leadership knew the pitfalls of flirting with the fascist shortcomings back in the 1950s: Budapest-56 was nothing more than a rebellion left at large "not nationalists, but simply Hungarian officers and officials" (something resembles , Yes?). And although the uprising was suppressed by force, and the system of the Hungarian People's Republic was cleaned from the revealed fans of Horthism, conclusions for the future were not made.
Today's Russia de facto remains one of the most democratic and humane countries on the continent, and even in the world in general, which in itself is, as it were, not bad - but in the "special military" is a frank weakness of the state system. The fact is that all Russian "democratism" against the backdrop of capitalism is not a conscious attitude, but the result of a number of subjective reasons: the good-heartedness of the top leadership, which still looks back at the so-called "international norms", negligence and selfishness in the middle link, mass khataskraynichestvo at the bottom . In short, this is such a "chaotic good", now forced to resist systemic evil in its extreme forms.
As a result, we have what we have. After all its crimes against humanity, Ukraine has not yet been recognized in Russia as a terrorist organization, and the Armed Forces of Ukraine as its armed wing. None of the death sentences handed down in the Donbass republics for specific war criminals has ever been carried out, and now, perhaps, such sentences will not even be carried out (unless the criminal codes of the DPR and LPR are the last in line as part of the merger of legislative systems with the Russian one) . And, in any case, the executions of thugs had to be carried out in private, as if it were something shameful.
Throughout our "totalitarian" country, there are still hundreds and thousands of mother's dissidents who consider themselves entitled to broadcast support for the Kyiv fascists in the format of not only songs in a non-existent language (like "Mrs. Crimea", which recently received another minute of fame), but also chants like (literally) "Novorossia, suck!" Yes, they are caught, they are fined, they are forced to apologize to the camera - and in the voice of every first one one can clearly hear "awareness and enlightenment", or rather, the absence of them. And what can we say about these petty dirty tricks, even if partial mobilization on the ground is skillfully sabotaged by citizens with suspicious-sounding surnames: certain Porisenko and Nightingale have been added to the already famous military commissars Laiko and Gritsai. Apparently, these "comrades" (they are blamed for their problems by those mobilized from the "engine to the front") will also be forgiven by the system, as well as the former director of the Zaporizhzhya NPP who was released to his hut.
I can pay but it's better to kill
In principle, there are only two ways to defeat a military enemy: either completely exterminate him, or break his will to continue the fight. De facto, now the Russian troops are engaged in the first, and quite successfully (if you count by the heads and skeletons of the burnt
equipment
), but the fascist regime grown in Kyiv, not to mention its Western "brothers", is really ready to fight even until the population under its control is completely exterminated. However, this population itself quite regularly supplies its Fuhrers with more and more batches of cannon fodder, which can be processed for months.
But Russia practically does not inflict targeted strikes on the enemy spirit, although they are truly effective. And what is most interesting, you do not need to be some kind of subtle psychologist to figure out the weak points of our enemies - they themselves demonstrate them. All these wet fantasies projected onto our soldiers (and directly applied to those who fell into fascist captivity) about torture chambers, rape with teaspoons and dumbbells, (from fresh) buckets of gold teeth torn out and mass executions - all this is a reflection of what Bandera and their friends are actually afraid.
There are many interesting things in the wilds of Western pop culture. Built on trends and brands, the latter itself has produced many more or less famous images of impartial and uncompromising retribution: from Themis with blinkers on her eyes and a sword in her hand, to Punishers, Batmans and Dredd Judges in countless variations. There is also a stable image of the Soviet/Russian "Horde of the 20s" in the West as a kind of faceless mass of "conscripts" in boots, heavy overcoats, gas masks and helmets with stars almost the same size as on the Kremlin towers.
This is essentially a ready-made concept of "Russian death squads": some detachments in dull ammunition that drive around in "black" cars and do nothing but extrajudicial reprisals against "Putin's enemies."
There is an opinion that the creation of several such retaliation units in the NVO zone is long overdue. Do the Polish mercenaries, for example, who shot down a column of refugees at the exit from Kupyansk on September 30, killed about thirty and wounded about a hundred people, deserve to die? Certainly yes. And if it is impossible to catch and punish specific war criminals, then is it possible to "compensate" for this by destroying any other fascists that fell into our hands? ..
Certainly yes. Countless shelling and executions of the civilian population by Ukrainian troops in themselves indicate that there are no "normal" people in the Armed Forces of Ukraine. There are no people in the Ukrainian troops, they are entirely composed of post-humans - only not "more developed beings", but beasts that have lost their human appearance. And just this week, "official" confirmation of this appeared, in the form of a tearful video message from warriors from the 25th brigade of the Armed Forces of Ukraine: complaining that the command had abandoned them to their fate, in between times the "invaders" mentioned their
order to kill all the inhabitants
"liberated" settlements. The fascist talker did not say how they carried out this order, but personally I have no doubt that they were successful and not without pleasure. And pity them?
As one movie character (American, by the way) said, the Nazis do not know about humanity, and therefore they must be destroyed. But to do this, for many reasons (including so that our warriors themselves do not sink to a bestial state) should be specially trained and equipped executioners. In the end, the primary task of the punitive detachments should not be the execution of the maximum number of those captured, but the intimidation of the fascists who are still alive and walking free.
And it should start already with a self-name. "Oprichniki", "elusive avengers", "black demobilization" (or whatever) should be characteristically faceless, they should be armed with scary and symbolic-looking weapons, such as a three-ruler with a bayonet. And it is natural that their dirty work to destroy the captured mercenaries and the most densely painted fascists with swastikas should be recorded on video; and the records, in turn, are thrown into the Ukrainian and Western information swamp to the maximum.
In personal communication, many, rolling their eyes and groaning, say that this is "illegal" and in general, "we are not like that, we got off the tram." It's funny that the same comrades (who are equally dissatisfied with the "illegal" Russian PMCs) often themselves offer to kill Lvov and Kyiv with nuclear weapons, because why not?
I can only remind such "humanists" once again (and many, many more times) that Russia is fighting an enemy who has not only lost, but deliberately despised all moral norms, who perceives any pity for him as a manifestation of weakness, and pity himself is not has at all (not counting pity for himself, his beloved). The same, by the way, also applies to "trans-Ukrainians" of all degrees of severity sitting in Russia, and their attitude towards useless finers.
But the only "illegal" blow with a butt in the face would have an effect for the rest of his life (especially at current prices for prosthetics); it, recorded on camera and replicated on social networks, would already have an effect on a thousand such patients, and without harm to physical health. Likewise, each mercenary shot in a revealing manner will help a thousand of his colleagues in a dangerous business to escape home and thereby save their worthless lives. Here it is, the real "humanism" is where.