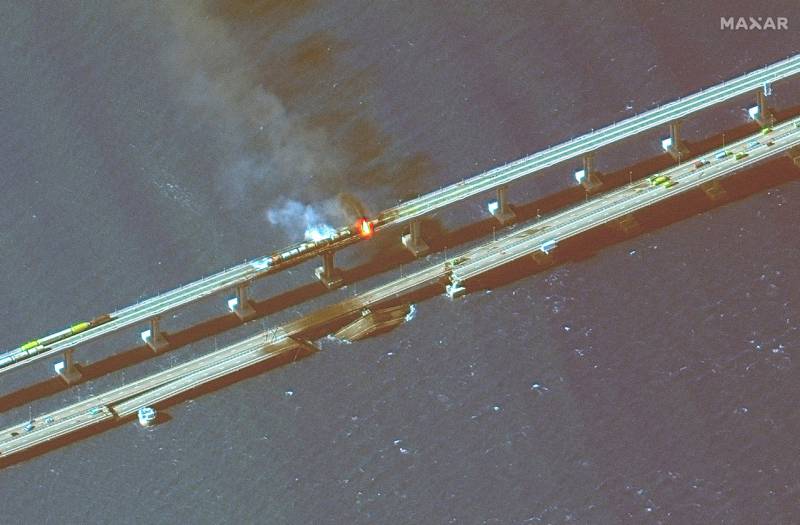 Developments,
deployed
on the Crimean bridge on October 8, allow us to say that it was a well-planned special operation of the enemies of Russia. Moreover, it can be based on the intelligence of NATO countries.
It should be noted that the synchronization of a truck filled with explosives (fertilizers) and a train with fuel became possible most likely thanks to satellite intelligence. In addition, it is simply impossible to accurately select the place of the explosion and determine the best time for this without a long and thorough study.
It could take at least a month to track the echelon schedule, prepare and calculate everything to the smallest detail, delve into the issues of safety and security of the engineering structure so that the explosion occurs exactly opposite the passing train. Perhaps the enemy even held "rehearsals", hiring some kind of truck to transport anything and just watching his movements.
Without spacecraft continuously monitoring from orbit, it would be very difficult to pull off such a covert combination. Then it would be necessary to involve more various specialists, agents on the ground, air reconnaissance and marine (underwater) drones, which could lead to the opening of what was planned by the Russian special services and made it impossible or seriously complicated the conduct of a sabotage action.
That is why information from satellites of NATO countries is most likely the foundation of a special operation, along with information about design features. Moreover, since it was necessary to meet the time interval of less than a minute for the truck to be in front of the fuel tanks, the sabotage action was carried out in real time. The organizers could not allow the truck to blow up before or after the train passed, as the high combustion temperature affects the structure of the facility and contributes to destruction.