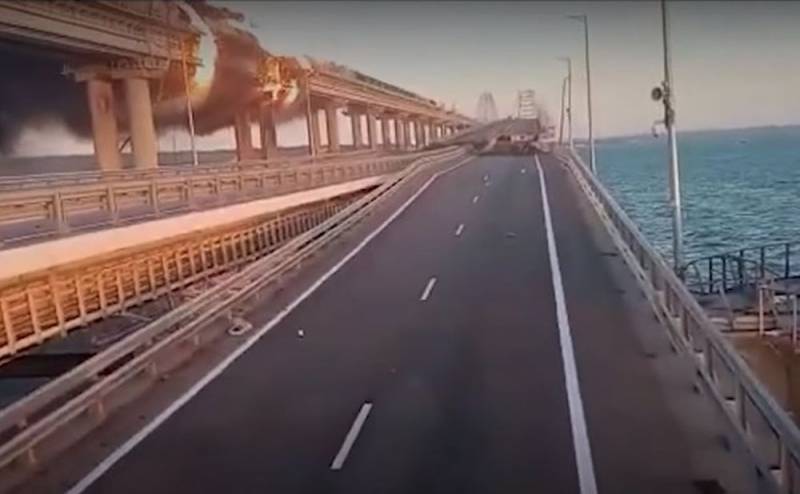 After
bang
on the Crimean bridge in the information space, a discussion unfolded about who could be behind such an act. For example, blogger Anatoly Shariy believes that the Security Service of Ukraine has nothing to do with what happened at the transport facility. In turn, the Interfax-Ukraine agency reported without giving details, but referring to sources in the Ukrainian law enforcement agencies, that the SBU, which carried out its operation on Russian territory, was behind the incident.
Undermining the Crimean bridge - a special operation of the SBU
– said the source of the agency on Saturday.
At the same time, the agency emphasized that at the time of publication, the SBU had not officially commented on the rumors about its participation in these events.
Note that the Ukrainian media, which are actually under the control of Western intelligence services, may try to specifically point out the role of the SBU in undermining the Crimean bridge, diverting attention from the real organizers. Many experts
count them.
that literally "the ears of a third party stick out" from what happened, namely the US CIA and UK MI6.
For example, the aforementioned Shariy, studying the damage to the Crimean bridge using the available videos from the scene, put forward a second version of what happened, since the first one is about the "explosion of a truck," which raises questions for him.
Let me express the second version - a device attached to the bridge supports. There were under a hundred kg of explosives, it was done under water, it is very reminiscent of the Nord Streams, and if this happened and the explosion was not on the bridge, but under the bridge, this is a complete failure of the Russian special services
Shary wrote.
In addition, the blogger informed that in addition to the truck driver, two more people died at the scene, who were passing by at the time of the explosion in their car.
According to my information, the deceased family of civilians was driving a Cadillac. They have children, I hope there were no children in the car at the time of the attack
Shary said.
Meanwhile, traffic on the Crimean bridge in reverse mode has been restored. It is planned that from 20:00 Moscow time the first trains will also be allowed to cross the bridge - so far in test mode.