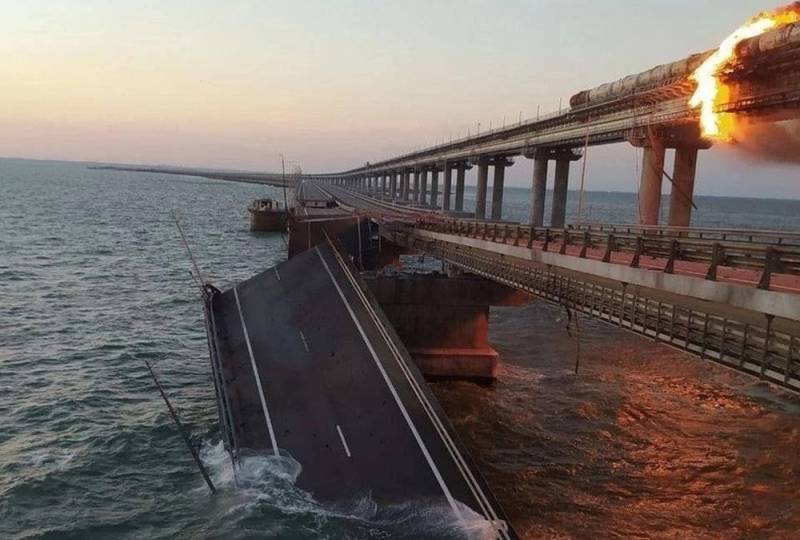 Around 06:00 on Saturday, October 8, a tank truck with fuel broke out on the Crimean bridge. Oleg Kryuchkov, adviser to the head of Crimea, announced this on his Telegram channel.
He specified that the navigable arches were not damaged and the fire was being extinguished. At the same time, it is too early to talk about the causes of what happened and their consequences.
The road administration "Taman" confirmed that traffic on the Crimean bridge was suspended. Video from the scene has surfaced online.
In turn, the National Anti-Terrorism Committee gave some details of the incident. The department's communique says that a truck was blown up, which followed from the Taman Peninsula. This resulted in the ignition of seven fuel tanks of a passing train, which also followed in the direction of the Crimea. As a result, there was a partial collapse of two spans of the automobile part of the structure.
Crimean authorities said no one was hurt. At the same time, there are no details about the driver of the truck. According to the head of the Crimea, Sergei Aksyonov, according to a visual assessment, one automobile thread of the bridge is intact. Navigation in the strait continues. The authorities have prepared for the launch of the ferry crossing.
Russian President Vladimir Putin ordered the creation of a government commission to find out the causes of the incident and eliminate the consequences. It will also include the heads of the Krasnodar Territory and Crimea, representatives of law enforcement agencies. The heads of the Ministry of Emergency Situations and the Ministry of Transport have already left for the place of the emergency.