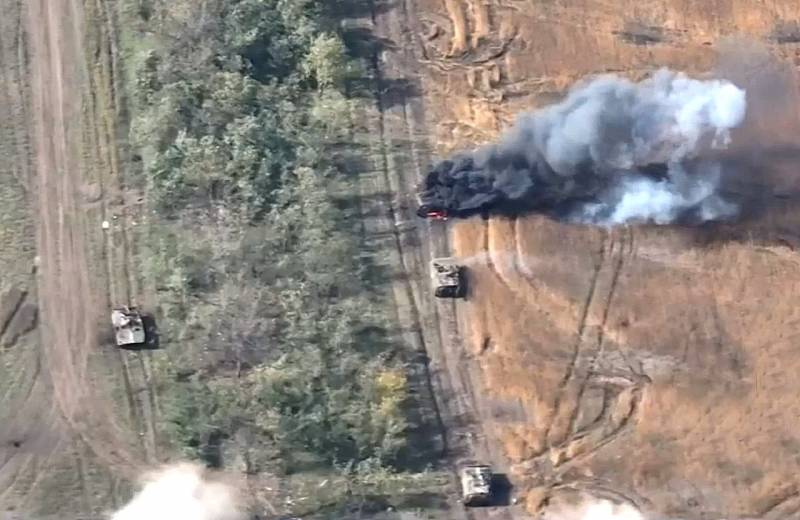 According to the latest reports of the Ministry of Defense of the Russian Federation on the progress of the special military operation on the territory of Ukraine, in the Andreevo-Kryvyi Rih direction, Russian army units are holding their positions, repelling attacks by superior enemy forces and inflicting serious losses in manpower and armored vehicles on the Armed Forces of Ukraine.
In the areas of the settlements of Bruskinskoye and Kostromka in the Kherson region, soldiers of the 76th Guards Air Assault Division destroyed the Ukrainian forces advancing for an attack, consisting of approximately two battalion tactical groups, using more than 100 tanks and armored vehicles, which was confirmed by published operational video footage from a Russian drone.
As follows from the video, according to the results of the artillery strike, the column of the Armed Forces of Ukraine, including four BMP-1s, two T-64BVs, a BRDM-2 and another armored
machinery
, was almost completely destroyed or brought to a state of absolute disrepair. The estimate of the losses of the Armed Forces of Ukraine in manpower only near Kostromka is up to 240 people killed.
As of October 5, in addition to this, as a result of massive attacks by the Russian Aerospace Forces on units of the 35th Marine Brigade of the Armed Forces of Ukraine in the area of ​​​​the settlement of Davydov Brod and the 128th mountain assault brigade of the Armed Forces of Ukraine in the area of ​​​​the settlement of Dudchany, Kherson region, more than 120 enemy servicemen were destroyed , two tanks and eight armored fighting vehicles of the Ukrainian armed forces.
In total, over the past day in the Nikolaev-Krivoy Rog direction, enemy losses amounted to more than 230 personnel, 4 tanks, 18 armored combat vehicles, two Gvozdika self-propelled howitzers, two mortars and 20 vehicles
- reported in the report of the Russian Ministry of Defense.