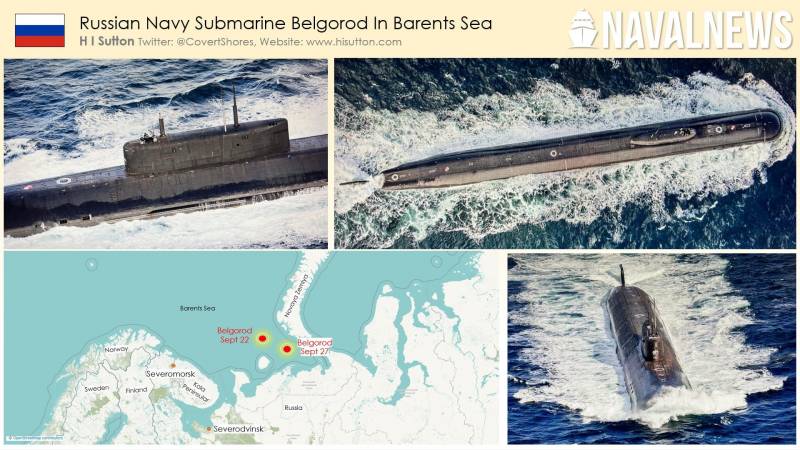 The Western media have recently raised the alarm in connection with the "disappearance" of the Russian submarine K-329 Belgorod, carrying six Poseidon nuclear torpedoes, from the base. However, Naval News has shared the latest images of the submarine performing tasks in the Barents Sea.
NATO photographs show that the submarine is currently located north of the Kola Peninsula.
According to open sources, the launch of a single Poseidon nuclear torpedo can lead to a radioactive tsunami that can flood New York and Los Angeles, causing waves up to 500 meters high. NATO intelligence services do not rule out that Moscow plans to test these missiles without a nuclear filling. Such test firing, Naval News believes, could become part of Moscow's nuclear escalation strategy.
Meanwhile, the authors of the publication MilitaryRussia.Ru believe that the West has nothing to fear, since the Russian Navy does not yet have nuclear supertorpedoes.
Even experimental launches from Belgorod have not yet been carried out, and before the experimental development is turned into a weapon system, it will take, I think, several years
- the expert notes in the telegram channel.
K-329 is 178 meters long and 15 meters wide. Displacement "Belgorod" about 30 thousand tons. These characteristics make the submarine the largest submarine of Project 941 "Shark" (class Typhoon, according to NATO codification).