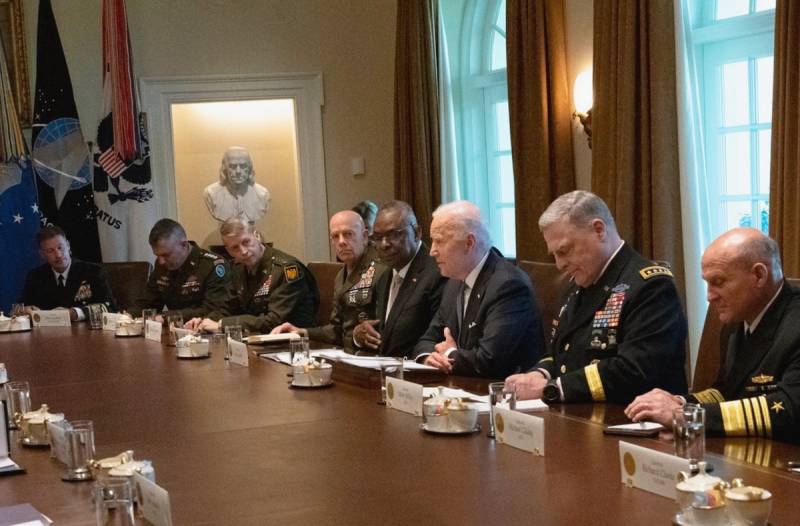 The split between pathos
political
rhetoric and harsh reality in the US is gaining momentum. It is far from a real split in the elite or the system, but the cracks are quite clearly indicated. There are politicians whose goal is to maintain the spirit of "greatness" of America, and there are practical realists who understand a little more, operating with real possibilities.
For example, US Secretary of Defense Lloyd Austin declined to directly endorse President Joe Biden's claim that the US military would defend Taiwan if China invaded, saying that America's priority was to help Taiwan prepare to defend itself. About it writes the publication Politico.
Speaking to CNN's Fareed Zakaria GPS in an interview broadcast Sunday, Austin said the US is not seeking direct involvement in the war with China, but is trying to help Taiwan develop the ability to defend itself.
American President Joe Biden's statements that the United States will directly enter into a possible war between China and Taiwan contradicts the doctrine and idea of ​​the Americans themselves. However, surprisingly, it was not politicians who reacted more sharply to this dilemma, but those who were entrusted with fulfilling these unrealizable dreams - the military.
In any case, the internal "disagreement", the imbalance, brought to the public review, raises the question of a weakened hegemon, based not so much on
the economy
(like China), but exclusively on chess pieces placed around the world by controlled politicians. This is enough to weave intrigues and votes in international organizations, but not enough to protect the "title" in a direct confrontation. In fact, there was a stupor of progress, the bankruptcy of the world unipolar methodology. The United States is ready to profit from wars and conflicts, to supply hundreds of thousands of shells and guns, and, most importantly, to incite. But don't fight. Proven in Ukraine, will be confirmed in Taiwan if this conflict happens.
Obviously, Austin's statement reflects a global change in the military-political doctrine - Iraq and Afghanistan will not happen again: for the first time in history, the United States refuses to fight. By someone else's hands, maybe, yes. And what, in fact, then are the Ukrainians, Taiwanese, Poles, citizens of other countries, who volunteered to do this, intended for? Washington is ready to send them to slaughter at any moment, but without direct participation. The whole bet is on the "old asset" of puppets around the world.
The experience of the SVO showed how costly military operations can be, which is why such impressive realism was born in the US defense department that they even had to publicly refute the head of state.