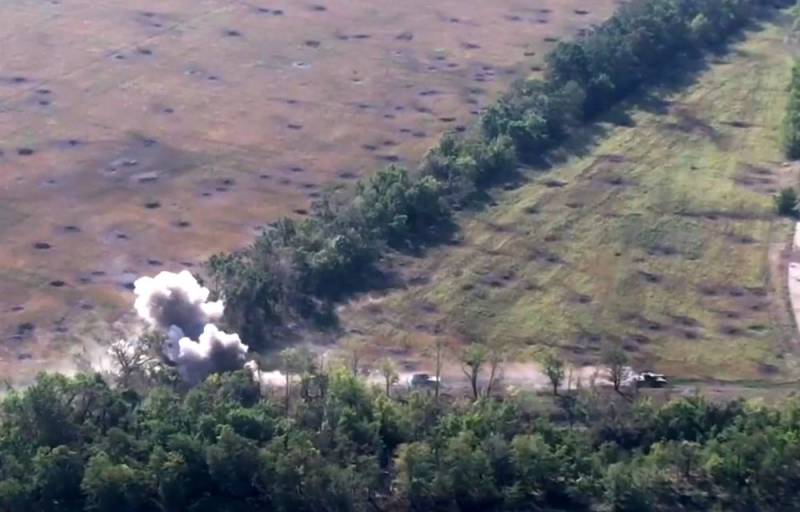 Over the past few months, the Armed Forces of Ukraine have been trying to oust the RF Armed Forces from a large bridgehead on the Right Bank in the Kherson region, which is supported by crossings across the Dnieper River. The presence of this bridgehead allows Russian troops in the foreseeable future to go on the offensive on Krivoy Rog, Nikolaev and Odessa. The Ukrainian army is trying to prevent such a development of events in the future, therefore it regularly attacks the positions of the Russians in different sectors of the front in this direction.
On October 1, the Armed Forces of Ukraine made another offensive attempt. So, from the side of Novovorontsovka towards Khreschenovka and Lyubimovka, one tank battalion advanced under the cover of an infantry battalion. The movements of the enemy were timely noticed from a reconnaissance UAV.
Russian cannon and rocket artillery began to hit the advancing enemy forces. The reserves of the RF Armed Forces pulled up to the site of the clash. Having come under heavy fire, the enemy began to maneuver, trying to hide and disguise himself in the nearest forest belts, destroying the attacking group's own battle formations.
Footage appeared on the Web showing the combat work of Russian artillery, covering a Ukrainian armored column in the Kherson direction. The incident was recorded by an impartial drone that was in the area.