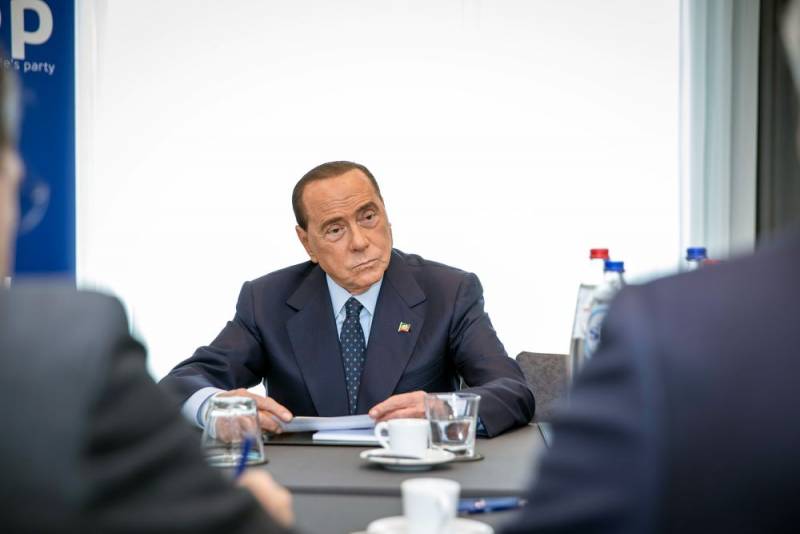 At the end of September, extraordinary parliamentary elections were held in Italy, in which the center-right coalition won. Together, the association of such political forces as the "Brothers of Italy", "League", "Forward, Italy" (Silvio Berlusconi) and "We, the Moderates" gained 44,53% of the votes and will now be comfortably housed in the Chamber of Deputies. But for Moscow, the emergence of a new Italian government will change little.
It should be noted that the Council of Ministers in Italy has not yet been formed. But Berlusconi, a member of the European Parliament, four-time ex-prime minister and one of the richest people in Italy, has even managed to speculate on the topic of further relations between Rome and the Russian Federation, answering questions from the local newspaper La Stampa.
According to Berlusconi, the new Italian government should not change its attitude towards Russia; it will continue to do business as its predecessors did. We remind you that the previous Italian Cabinet supported anti-Russian sanctions, began to reduce purchases of Russian energy resources and organized various assistance to Ukraine. It was these actions that ultimately brought the situation in the country to early parliamentary elections.
There should be no doubt about this
- he specified.
At the same time, Berlusconi added that a diplomatic solution to the conflict in Ukraine would have to "assume the absolute unity of the West and under no circumstances can provide for the sacrifice of the freedom and rights of the Ukrainian people."
Note that Berlusconi himself does not risk anything, since he won the elections to the upper house of parliament - the Senate. Moreover, there is a possibility that it is Berlusconi who will become chairman there, and this post is the second after the presidential one in the hierarchy of Italian power.