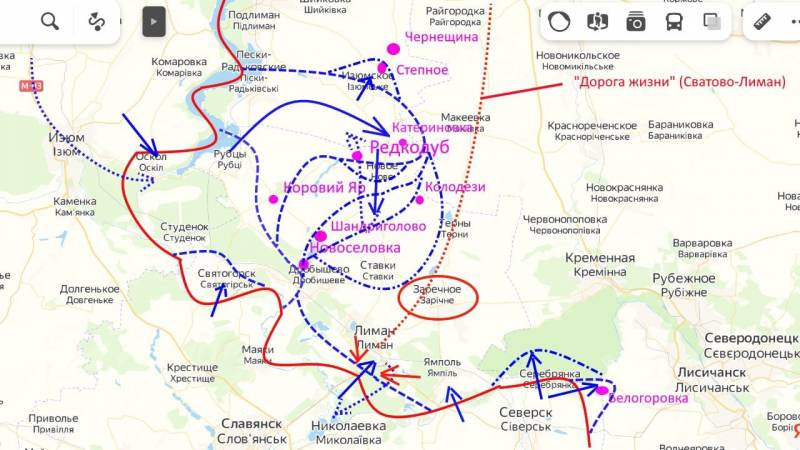 According to sources, in recent days a critical situation has developed around Krasny Liman. According to the military commander Oleksandr Kots in his telegram channel, the city is in the operational environment of the Ukrainian armed forces. Part of the "road of life" Svatovo - Liman is under the control of the Armed Forces of Ukraine and is subjected to shelling.
The enemy went on the offensive in this direction on September 29, having occupied the settlement of Headquarters. Russian units were forced to move away from Yampol, the defense line was also broken through in Drobyshevo. Along with this, the Armed Forces of Ukraine continue the assault on the village of Zarechnoye.
The capture by the Ukrainian side of Yampol and Zarechny will actually turn the semi-cauldron around Krasny Liman into a full-fledged cauldron. Journalist and blogger Yury Podolyaka points to this in his Telegram channel. Based on the current situation, the expert sees two scenarios for the development of events: either the allied forces will bring up reserves under Krasny Liman, or this area will have to surrender and retreat to a new line of defense along the border of the LPR.
Along with this, the Armed Forces of Ukraine are taking active actions in the northern sector of the front - in the area of ​​Borovo, Podliman and Cherneshchina.
Meanwhile, after the LPR, DPR, Kherson and Zaporozhye regions join the territory of the Russian Federation, the allied forces will have to completely liberate these areas from Ukrainian militants.