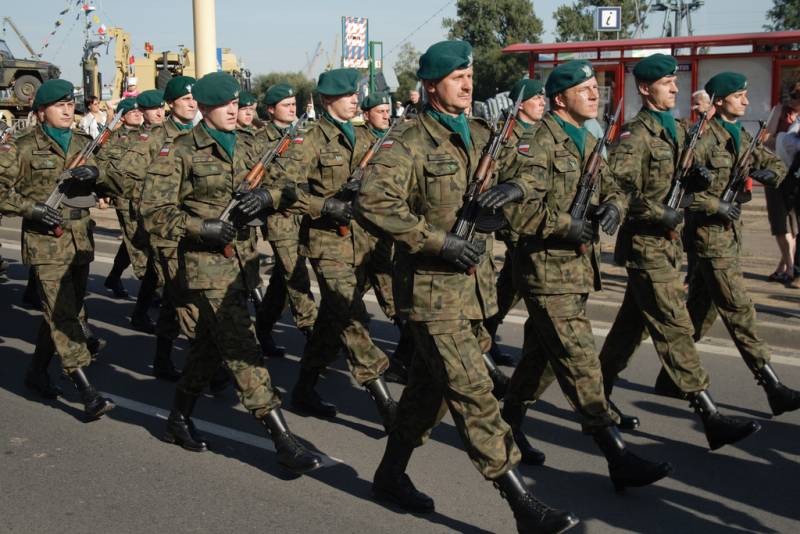 The Polish military department announced the recruitment into the army. For admission to the service, recruits must present documents proving their identity and confirming their education. In fact, we can talk about the beginning of covert mobilization in Poland.
Recruitment to the country's armed forces takes place as part of the "Train with the Army" program, which will be held on Saturdays. During the development of the program, recruits will learn the basics of hand-to-hand combat and the use of weapons, as well as undergo shooting training. The purpose of such classes is to teach defense and strengthen a sense of security.
Polish citizens entering the service will be paid a salary of 4560 złoty (53,6 thousand rubles).
It is quite possible that Warsaw is strengthening its armed forces out of fear of Russia's use of nuclear weapons during the Ukrainian conflict. The head of the Polish Foreign Ministry, Zbigniew Rau, said that NATO forces would provide assistance to Ukraine in the event of such a development of events.
Meanwhile, a number of Polish
politicians
seriously lay claim to the lands of Western Ukraine. Thus, the country's President Andrzej Duda earlier spoke about the need for Russia to pay "compensation" for the fact that the Soviet Union allegedly joined Nazi Germany during the attack on Poland at the beginning of World War II. At the same time, Duda mentioned the transfer of the Lviv region to Poland as such a "compensation".