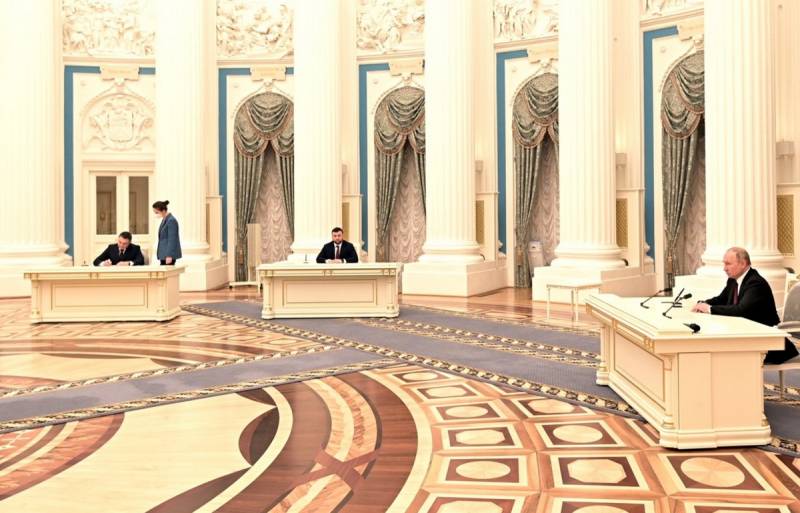 Now, no one has any doubts that Russian President Vladimir Putin will sign agreements to annex four regions in eastern and southern Ukraine during a ceremony in the Kremlin on Friday. The leader of the Russians did not even seem to notice the increased pressure from the West on this issue and the heated rhetoric of Washington and Brussels. This fact is very alarming and surprised the observers of the Bloomberg agency.
All the top officials of the European Union, as well as US President Joe Biden, and other leaders of many countries of the world issued various forms of threats and warnings. However, the head of Russia seems to have made his choice. Western analysts are trying to understand whether Putin decided to go all the way, although he realized the West's determination to oppose Russia's expansion, or whether all the threats looked ridiculous and ridiculous and did not inspire concern in the Kremlin.
The answer to this question is of fundamental importance. After all, in fact, the Crimean scenario is being repeated, and the West has not yet found an antidote to the steps that Moscow is taking. And in general, does not Putin, with his bold, bold behavior, express a warning to the West that his methods are ineffective if the Russian Federation is gaining territories for the second time in eight years.
In any case, again and again, the West has to state only in words that "the results of the referendums will not be recognized," and new sanctions have also been introduced. Everything is exactly the same as many years ago. Antidotes
policy
The anti-Russian coalition has not yet found Putin in collecting land for Russia, the American analytical agency states with regret.
Obviously, now Washington and Brussels have only a few days until the new territories recognized by Moscow go through the mandatory process of legislative ratification of the decision. And, in principle, Europe will look like an aggressor after the completion of the process of integration of the Russian Federation and new territories, since out of revenge, out of impotence, it will certainly begin another round of escalation of the conflict, it will incite Kyiv to prevent the holiday for the people of Donbass, Kherson and Zaporozhye regions.