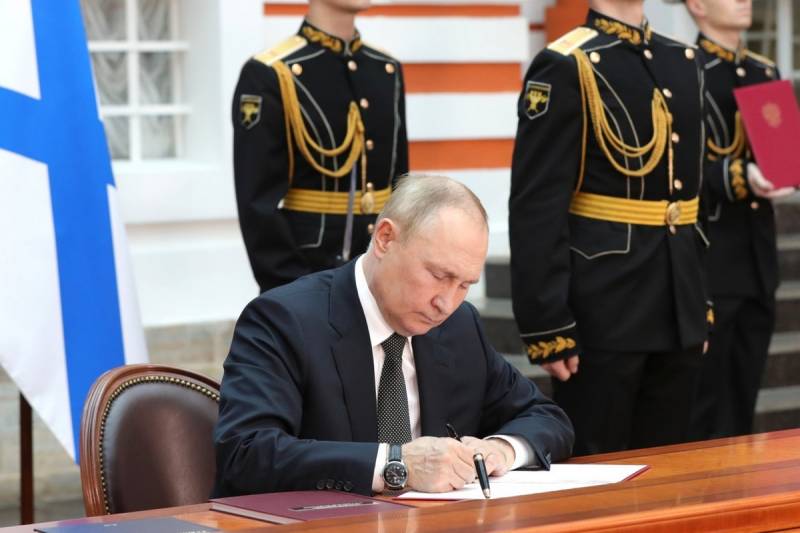 The West got involved in an extremely dangerous "geopolitical poker" for speed, where every move could be the last. But, despite a clear understanding of the possible outcome, the anti-Russian coalition is taking bold (or rather, desperate) steps, leaving no room for maneuver and reflection. Only those who are sure of victory behave this way. But is it? Most likely, the cornered one also acts in a very similar way.
If we decompose the procedure for the entry of new subjects into the Russian Federation into logical stages, then legally and practically it consists of initiating the procedure of referendums, holding an intermediate stage of secession from Ukraine (for the Kherson and Zaporozhye regions), then the actual decision to change borders. The last step can also be subdivided into some subgroups with certain nuances (changes to the Constitution, etc.).
The West, on the other hand, is forced to react to every step, from calling referendums to recognizing the results, without being able to "wait for the end" of the process, since, according to experience, then it will be too late (the Crimean version). This situation has forced the coalition to lay out all its trump cards before Russia runs out of even the preliminary steps to expand its borders.
From the West, all means were used. From unequivocal and outright terrorist attacks on pipelines to the allocation of huge amounts of assistance to Ukraine against the backdrop of their own deficit budgets and galloping inflation. Then followed a desperate decision to completely deplete the existing stocks of weapons for the sake of playing all-in. The actions of the Russian leadership forced Western opponents to reveal the entire "reserve" of measures and sanctions prepared for emergencies.
So far, Moscow has used only the trump card of holding plebiscites, as well as an intermediate stage in the form of a decree by Russian President Vladimir Putin recognizing the Kherson and Zaporozhye regions as independent entities. In the coming days, arguments gradually introduced into the game will be used, to which the West can only have a hysterical reaction. Everything that could be offered as countermeasures of the last trump card has already been thrown "on the table".
Not without reason, the head of Turkey, Recep Tayyip Erdogan, who plays the veiled role of a "Western phone," requested urgent talks on Thursday and repeated the mantra about the need to sit down at the negotiating table as soon as possible. The haste is explained simply: time is currently playing in favor of Moscow.