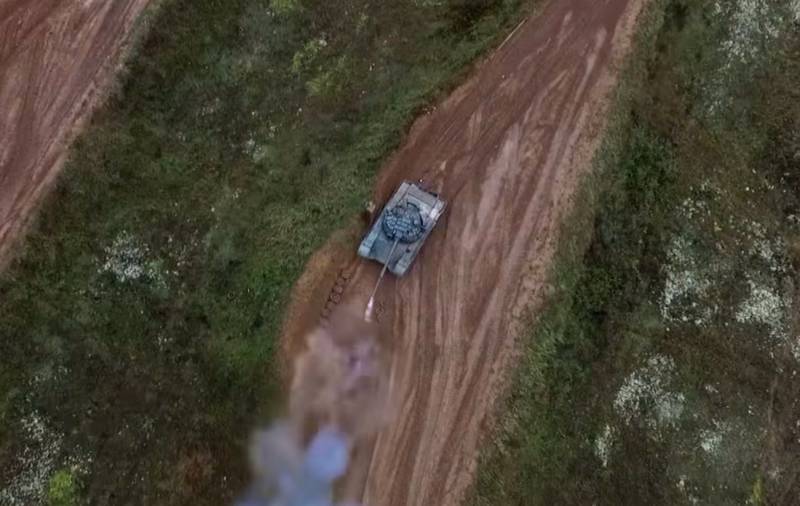 In the zone of the Russian military special operation in Ukraine, a large number of various armored vehicles, including tanks, are used. But tank duels rarely get on video. Footage has appeared on the Web showing the oncoming battle of Russian and Ukrainian tanks during the SVO.
An unbiased drone recorded how the T-80BV of the Armed Forces of the RV and the T-64BV of the Armed Forces of Ukraine meet and conduct a tank battle at a short distance. A pair of Russian tanks move across a field littered with craters from explosions, resembling a "moon landscape", towards a wooded area, also well thinned before in the course of hostilities. There, one Ukrainian tank is waiting for them, which is maneuvering on the ground, choosing a convenient position to interfere with the advance of the enemy. Nearby is the second T-64BV, but it, apparently, was previously disabled.
Two T-80BV "Marines" of the Pacific Fleet of the Russian Navy (it is not yet clear whether this is the Kamchatka or Primorsky Marine Corps unit) are approaching the T-64BV almost point-blank. A shot from one of the Russian tanks accurately hits the T-64BV. A sub-caliber projectile fired from a T-80BV pierces the frontal armor on the turret of a Ukrainian tank. A well-aimed shot ignites the powder charges, followed by a flash, followed by detonation of the ammunition. In this case, the crew of the Ukrainian tank had no chance to survive.
We remind you that as of the beginning of 2021, 550 T-80BV and T-80BVM tanks were equipped with the RF Armed Forces, another 3000 T-80B, T-80BV and T-80U tanks were in storage.