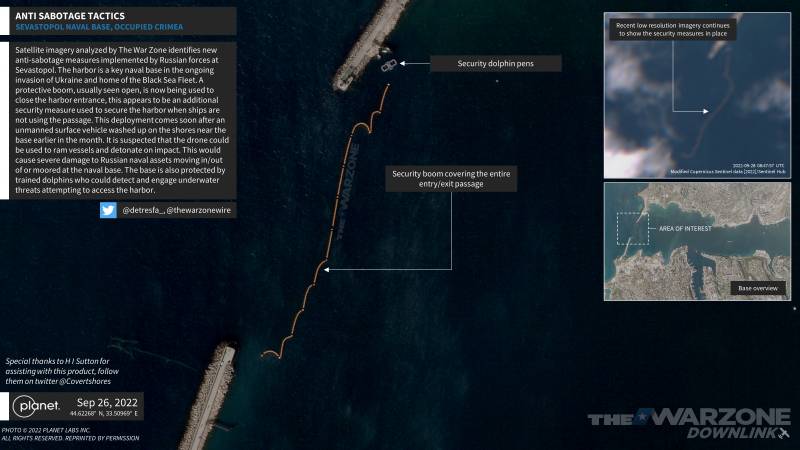 It became known that the Black Sea Fleet of the Russian Navy installed special barriers at the entrance to the Sevastopol Bay, where the largest naval base is located. This is reported by Western media and monitoring resources, referring to satellite images of the American company Planet Labs.
The publications note that the Russian military sailors took such a step due to the fact that in the adjacent waters there were recently
identified
multi-purpose stealth unmanned surface vehicles transferred by the United States in the form of assistance to Ukraine to confront Russia. One marine unmanned vehicle was destroyed by the Russian military near Sevastopol, and the other washed ashore near the city, and they got it intact.
The barrier is easily removed for the passage of vessels and ships, after which it is installed back. However, such a precaution would not be superfluous.
These stealth boats, called tactical autonomous systems (MANTAS), can be used both for information gathering, reconnaissance, surveillance and target designation, and for strike missions, turning into kamikaze drones. They pose a real threat to both the navy and civilian shipping.
We remind you that the Sevastopol Bay is a narrow and non-freezing semi-enclosed water area of ​​​​an estuarine type in the Black Sea (the eastern part is an escuary [a single-arm funnel-shaped mouth of a river expanding towards the sea] of the Chernaya River), located in the southwestern part of the Crimean peninsula. The surface area is 7,96 km2, the length is 7,5 km, and the width is up to 1 km. It is the main base of the Black Sea Fleet of the Russian Navy.