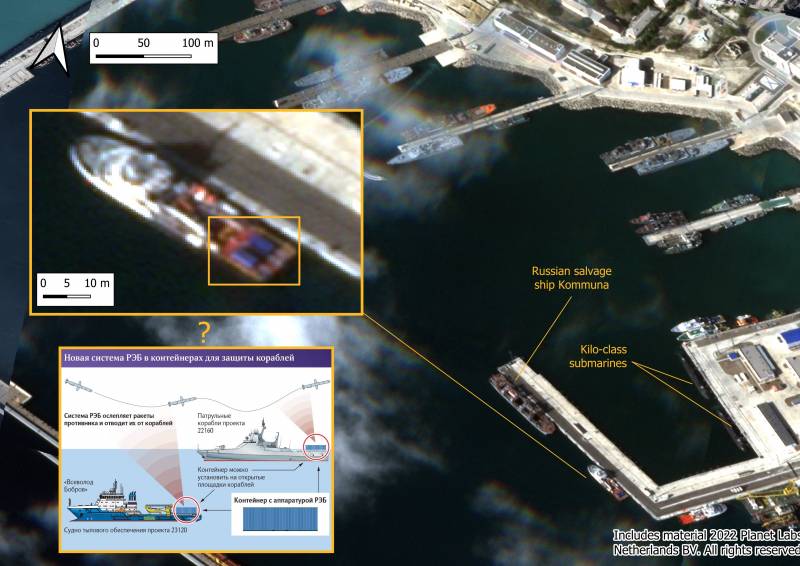 EW container systems, which began to be equipped with patrol and auxiliary ships of the Russian Navy, have become the subject of close attention of Western military experts, including those specializing in the analysis of satellite images. One of them, Swiss analyst Benjamin Pitte, posted fresh satellite photos on his Twitter account, which, in his opinion, demonstrate the placement of containers with similar electronic warfare systems on one of the ships of the Russian Black Sea Fleet.
This satellite image of the Novorossiysk military port shows the already known large landing ships and submarines, but these two blue containers caught my attention. Perhaps this is a new defense system for the ship.
Pete explains.
This version was supported by his other colleague, an analyst known under the pseudonym HI Sutton.
Indirectly, it looks like it could be an expected container-based electronic warfare system against drones. However, this conclusion is not final, since such blue containers are quite standard and are often used to transport other equipment (for example, diving support) by Russian auxiliary ships.
— HI Sutton wrote in his comment.
Other analysts noted that the "standard" nature of these containers allows for many other versions. In their opinion, it can be anything - from an electronic warfare system to an anti-ship missile system or the Club K complex (Caliber cruise missile launch platforms). But it can also be just logistics containers... Moreover, the ship on which satellite images showed the containers that excited Western analysts is the Vsevolod Bobrov Project 23120 military auxiliary vessel.
In early September, the command of the Russian Navy announced that the new containerized electronic warfare systems would be installed on open areas of ships and ships of the Russian navy to protect against possible attacks carried out by drones or cruise missiles. EW systems in this case will suppress the communication and control channels of the attacking objects. As stated, the first such container EW systems were to receive project 22160 patrol ships of the Vasily Bykov type.