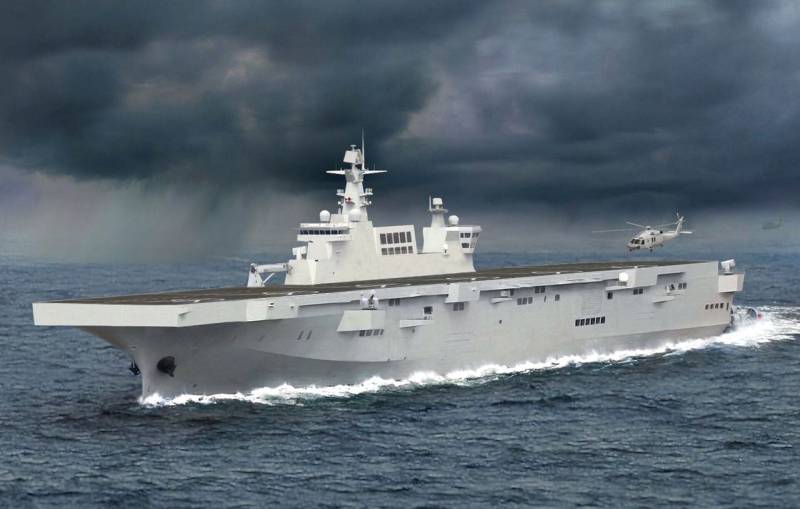 On the eve it became known that in China the construction of the 075 LHD type universal landing ship, the third in this series, was successfully completed. Further development should be the UDC type 076, even larger and more powerful, of which as many as seven pieces will be built for the needs of the PLA Navy. At the same time, in Russia, some overly media-active people stubbornly call aircraft carriers of this class "useless vessels" and "huge floating targets." But are they really as useless and defenseless as they are trying to present it?
Useless?
The need for such a class as a universal landing ship was recognized by the Americans during the Vietnam War. A successful amphibious assault under the cannon fire of Vietnamese patriots defending the coast of their country from foreign aggressors became a big problem. It was necessary to combine in one ship the functions of a headquarters, managing the landing of troops and coordinating the actions of aviation and support ships, as well as the possibility of landing marines and
equipment
in the safest possible way.
American UDCs have gone through their evolutionary path of development, gradually becoming larger and more capacious. The Tarawa had a total displacement of 39 long tons and could carry 967 Marines, 1903 CH-16D Sea King helicopters, 46 CH-6D Sea Stallion helicopters, and 53 UH-4N helicopters. The maximum possible number of aircraft on board was 1 units. The total displacement of his successor, the Wasp, was 43 English tons. Its landing capacity is 40 marines, the air wing has become noticeably more powerful: 532-1893 CH-30 helicopters, 32-46 AV-6B aircraft, or up to 8 CH-8 helicopters, or 46 AV-46B aircraft. In other words, due to the possibility of basing VTOL fighters, the UDC began to turn into light aircraft carriers.
UDC type "America" ​​became the pinnacle of evolution. With a full displacement of 45 tons, they can carry 700 Marines and carry a very impressive air wing: 1871 MV-12 convertiplanes, 22 F-6B short takeoff and vertical landing fighters, 35 attack helicopters ΑH-4Z, 1 transport helicopters ΜΗ-4, 53 UH-3 multipurpose helicopters or 1 F-22B fifth-generation fighters.
22 SKVVP is a very serious force, which, with a total displacement of more than 45 thousand tons, rightfully allows us to classify America as a light aircraft carrier! The F-35B, together with attack helicopters, are capable of providing support to the amphibious assault, turning the hostile coast into a kind of lunar landscape, as well as providing air defense, driving away enemy fighters and attack aircraft. The presence of a spacious infirmary for the wounded on board makes the UDC a real hospital ship. If necessary, the composition of the air wing can be changed to anti-submarine helicopters, and then the ship will turn into an anti-submarine helicopter carrier.
If you look at the promising Chinese competitor of America, then its capabilities are no less impressive. The standard displacement of the UDC project 076 will be 48 tons, and the total displacement will be 000 tons, which brings it closer to our Admiral Kuznetsov TAVKR with its 56 tons. Due to a draft of 000 meters, the landing of a battalion of marines with equipment will be carried out only with the help of landing craft or small landing craft hovercraft type 59 / 100A.
The Chinese UDC will be equipped with two electromagnetic catapults 120 meters long at once. The resource of each will allow launching up to 24 aircraft per hour into the air. These will be reconnaissance UAVs of the following types: CH-7 and GJ-11 (stealth attack UAVs), EA-03 (high-altitude reconnaissance UAV, also known as WZ-9, WZ-2000, BZK-007), WZ-100 and CR -500 (helicopter-type attack UAVs with coaxial propellers), which should provide a multi-level reconnaissance and surveillance system with a maximum combat radius of 1500 km, as well as attack helicopters WZ-10 and WZ-19, anti-submarine HZ-20 and transport Z-8L and Z-20. The total number of aircraft of the Type 076 air wing will be 40 units, they will rise to the deck by two elevators with a carrying capacity of up to 30 tons.
Classifying the Chinese ship as a light aircraft carrier does not allow only the absence of the PLA Navy of its analogues F-35B. But something tells us that the Celestial Empire will be able to solve this problem as well. Seven 076s and three 075s are what Beijing may need for a swift landing operation to regain control over Taiwan, and at the same time drive the "Papuans" into colonies somewhere in Africa.
In fact, the UDC are extremely useful multifunctional ships, no matter what the fans of the "mosquito fleet" may claim.
Defenseless?
It is also impossible to agree with the thesis about the allegedly complete defenselessness of universal landing ships. On the contrary, modern UDCs are increasingly turning into heavy aircraft-carrying cruisers.
According to the Soviet and Russian classification, TAVKR includes missile cruisers equipped with anti-aircraft, anti-ship and anti-submarine systems, simultaneously carrying several dozen aircraft and helicopters. However, according to the NATO classification of the 70s of the last century, the presence of medium-range air defense systems on them was enough to classify an aircraft carrier as a missile cruiser. This was true, for example, of the British light aircraft carriers of the Invincible type, which carried the Sea Dart anti-aircraft missile systems.
UDC type "America" ​​are equipped not only with modern electronic weapons, but also with a fairly advanced air defense system. It is represented by 2 Mk29 air defense systems for 8 ESSM missiles each and 2 Mk49 RAM air defense systems designed for direct protection against enemy anti-ship missiles, as well as 3 × 20 mm Mk15 Phalanx anti-aircraft artillery systems and 7 × 12,7 mm machine guns. The Chinese competitor of "America" ​​for self-defense will have short-range anti-aircraft missile systems "Naval Red Banner 10" and seven-barreled anti-aircraft guns "Type 730" of 30 mm caliber. In the future, the possibility of equipping the UDC project 076 with laser air defense systems is being considered.
Let's face it, neither the American nor the Chinese UDC are at all capable of hitting a completely "defenseless target". If we take into account the air wing of each, capable of providing air defense and anti-aircraft defense, then the picture begins to look completely different than we sometimes try to imagine.