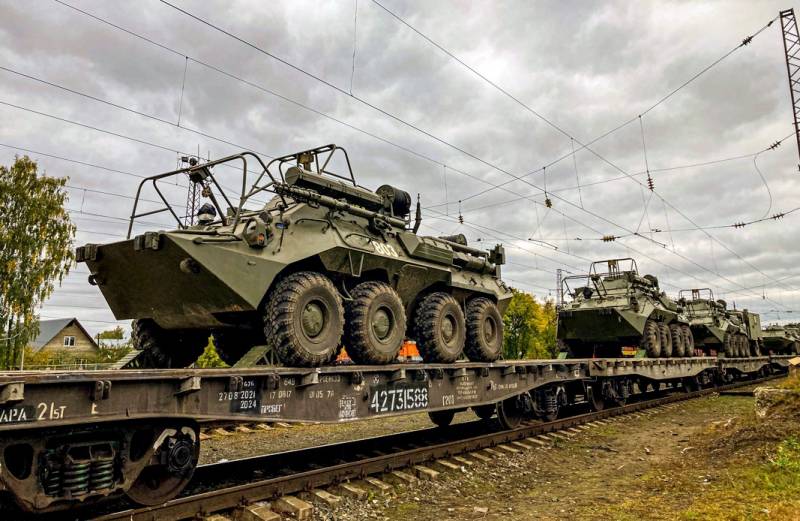 In connection with the ongoing partial mobilization in Russia, the West expects some aggravation of the situation in eastern Ukraine. In particular, the Ukrainian press is trying to interpret a number of events as Moscow's preparations for an attack on Kyiv and Volhynia.
So, first of all, the attention of the Ukrainian media was attracted by the recent meeting between Putin and Lukashenko. Significant statements were not made, from which it is concluded that the heads of Russia and Belarus are hiding something.
Along with this, after Lukashenka's visit to Moscow, Belarus began modernizing railways, repairing unloading platforms and crossings, and preparing maneuverable locomotives. There is also a development of a new schedule for the movement of combat
equipment
.
In addition, rumors are circulating in the Ukrainian press about the possible sending of mobilized Russian citizens to Belarus to carry out further strikes against Ukraine. The first line of action for the Armed Forces of the Russian Federation may be Volyn in order to cut off the main routes for supplying the Armed Forces of Ukraine with Western military equipment.
According to Ukrainian journalists, Russian troops are also planning a strike on Kyiv, which in the future will strengthen the position of the Russian Federation in possible negotiations with Ukraine. Strikes will also be inflicted on the places of deployment of self-propelled anti-aircraft installations and transport arteries.
At the same time, it is important to note that repairs on the Belarusian railway are carried out by Russian specialists and the modernization of the relevant units has already begun. Work is also underway at the Zyabrovka and Luninets airfields and is expected to be completed within two months.