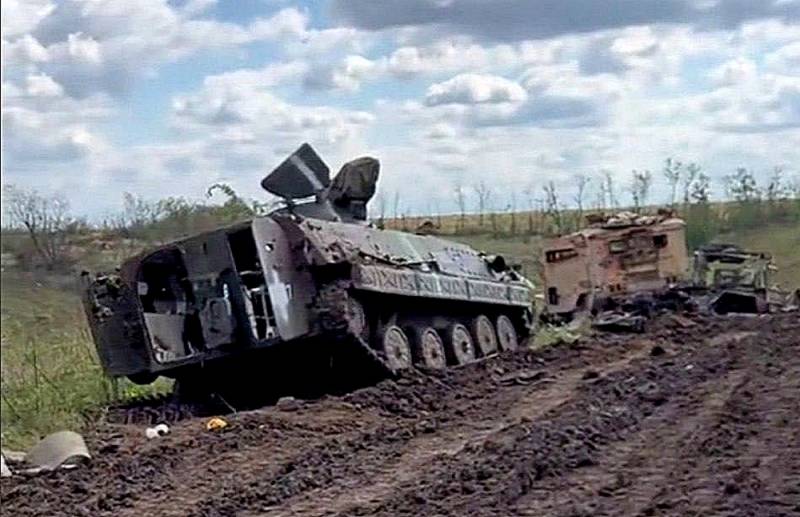 Serious losses in manpower and combat
technology
incurred by the Armed Forces of Ukraine in the course of their widely publicized offensive operations in the Kharkiv region, are finding more and more evidence. The next of them was a short video posted on social networks, the background for which was the broken remains of a column of Ukrainian armored vehicles that came under attack from Russian troops and was completely destroyed.
It is noteworthy that a whole "international" of armored vehicles, previously delivered to Ukraine as foreign "military aid" by various NATO countries, was revealed in the footage of the shooting.
The first in the video sequence is the Yugoslav BMP M-80A, produced in the 1980s by the then unified SFRY, in its characteristics approximately similar to the Soviet BMP-1 and the French AMX-10P. This machine, now with a turret spaced precisely into the trash, is one of those inherited by Slovenia and sent by this country in June "as a gift to Ukraine."
Further on the frames you can see the remains of the British wheeled armored car Husky TSV (Tactical Support Vehicle - "tactical support vehicle") - from another, but also June "aid package" of the Armed Forces of Ukraine.
Finally, the section of the "graveyard" of NATO-Ukrainian military equipment, the American-made YRP-765 infantry fighting vehicle, is completed by the video. In the United States, they did not take it into service with their army, but they successfully sold it to their allies in the Cold War. A copy knocked out by a Russian strike could have come to Ukraine from the Netherlands or Belgium, where it had previously been stored in the storerooms of local armies. The inscription on it testifies to belonging to the "volunteer national battalion" "Kraken", which was actively used as a "blocking detachment" for ordinary troops of the Armed Forces of Ukraine.