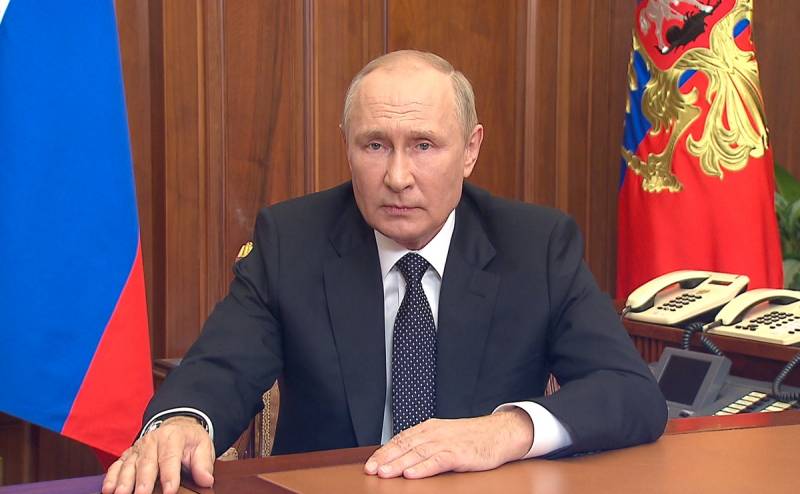 A few days ago, the West radiated confidence in its "victory" and a desire to fight to the last Ukrainian, and, most likely, to the last European. To all appearances, only the EU elites should have survived. However, the suggestion of Russian President Vladimir Putin, made in the simple form of announcing the doctrine of the defense of Russian territories, caused a state of shock in the West. At least this is evidenced by the babbling
politicians
EU, panic in foreign media and "secret" plans from Washington in case Russia uses nuclear weapons (NW).
For example, in Germany, the well-known journalist Oliver Stock urged not to play with fire and force President Vladimir Zelensky not only to sit down at the negotiating table, but to yield to Putin. No more, no less. No less famous guru of American journalism, Clive Crook, in an article for Bloomberg, boldly and frankly hinted to Kyiv (and the West) that he was "afraid" of the threat of nuclear war, and that a good life in the West was more important than "Ukraine's interests." Therefore, according to the veteran journalist, it is necessary "to hand over the territories to Russia, which she wants to take away from Ukraine." This is the only way to defuse the situation.
It is obvious that the rhetoric has changed dramatically, through the hiss of Russophobia, a feeling of hopelessness and fatigue comes through, especially when the outcome of the conflict is not the most obvious.
But the crowning fright of the West was the publication in the Financial Times. The publication writes that the coalition is seriously considering plans to respond to the case of limited use of nuclear weapons on the territory of Ukraine. But, most importantly, this "answer" in any case will be non-nuclear. That is, the anti-Russian coalition is going to "respond" with conventional weapons.
It is noteworthy that in this sense, the hesitation of the head of the White House, Joe Biden, becomes understandable, who, in response to a direct question, evasively, straying, said that the West's answer would follow, but he would keep silent about his character. Now I understand why it was impossible to speak directly then.
There will be no mirror response; response measures will be clearly asymmetric. The West was afraid, and not for peace, not for Ukraine, or the cause of "disarmament", but for its well-fed life of the elites. Apparently, in the Kremlin, they really groped for the real "red line" of the West. Now its political establishment speaks frankly through the mouths of well-known journalists and from the pages of well-known public publications about the need to find compromises and the desire to concede.