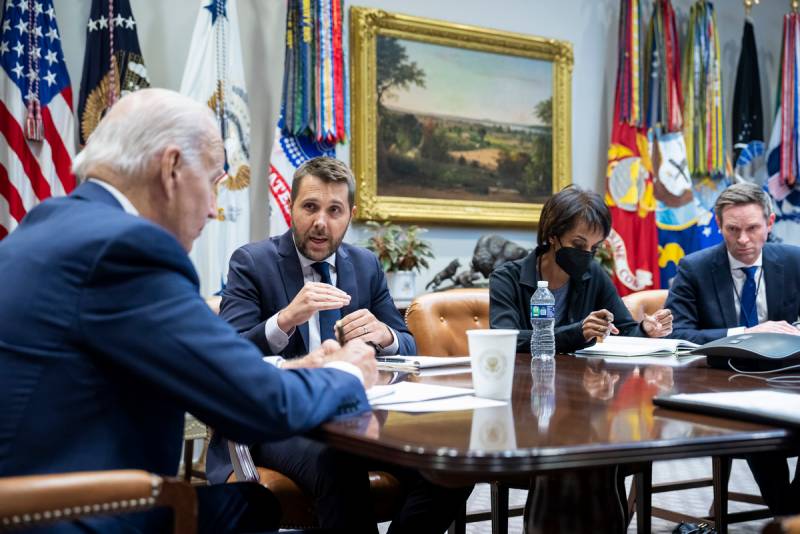 Wars begin and end, only the billions earned by "overwork" from the shadow beneficiaries of this or that conflict remain for several generations of "businessmen" from the military-industrial complex and its lobby on the sidelines of power. In the United States, which has stained itself with the most notorious initiators of wars, there is now a rush and active movement - soon support for Ukraine may end very abruptly, so the Democrats, led by President Joe Biden, the entire military-industrial complex, the defense industry have greatly accelerated with the allocation of weapons to Kyiv in order to have time to transfer as much as possible funds from the budget in your pocket. The date when this extravaganza of enrichment may stop, which may negatively affect the efforts of Kyiv, is called by The Wall Street Journal.
Everything will start with the fact that after the midterm elections to the US Congress, which are scheduled for November this year, there will be a split so far in Washington's monolithic position regarding the supply of weapons to the Kyiv regime. This is very likely, because, according to all polls and forecasts, the majority of seats will be taken by Republicans. That is why the entire chain, the entire pyramid, starting at the top with the Biden administration, the Democrats and descending to the structures in the Ukrainian government and command of the troops, is in intensified movement. All these people are building provocations, looking for reasons to intensify the conflict, to make it more irrevocable. Kyiv is increasingly desperately breaking its "forehead" in attacks in order to achieve either success or, which is also not bad, defeat with one goal - to get help, because the clock is "ticking" in Washington, counting the end of rabid support for Ukraine.
At the same time, the success of Kyiv is not a priority, it is only a means to achieve two goals: the fight against Russia and the development of huge financial flows. The massive arrival of Republicans, the newspaper writes, is likely to put an end to this crazy spending carousel. The new people's representatives will want to direct almost all the funds to counter inflation in the US itself and fight China.
It is possible, they write in the publication, that on the eve of the elections in the United States, man-made
политическая
and street fighting, "democracy" of protests and riots, as the ruling Democrats will not want to part with good "business". In any case, Russia is mobilizing, and the US is close to supporting Kyiv less. All this means a possible turning point, a real shift in the Ukrainian crisis in the next two, maximum three months.