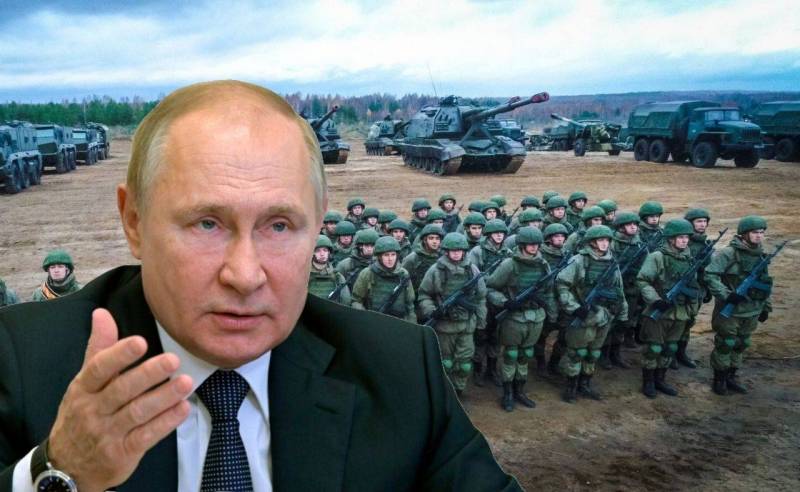 I immediately want to reassure all the exalted citizens of Russia, who are now wringing their hands in horror in anticipation of the Third World War - it will not happen. At least for now. For the most banal, but, nevertheless, the only true reason - this world now stupidly has no money for it. All world
economics
now on the decline, and in such conditions, world wars are not started. Both Putin and Biden know about this. So what you are seeing now is a bluff. Each side is bluffing, raising the stakes, playing to win. And the stakes for the game after February 24 are already very high, I would say prohibitively high. Literally everything was put at stake by the parties to the conflict! And in this situation, we can only rejoice that so far it has not come to betting on "zero". Those. The parties still have other options.
With his recent decree on partial military mobilization, Putin raised the stakes 10 times at once, marking the edges, making it clear to the opposite side (and you yourself understand that this is not a drug-addicted clown on Bankova Street, or even a grandfather from the Oval Office who does not fall into insanity, but those who is behind these characters) that there will be no Third World War, but the Kremlin intends to fight for peace in such a way that it will leave no stone unturned. Zelensky has three months to do everything about everything, but the decisive word, you know, is not for him, but for Biden. Now the ball is on his side. Him to answer.
War to the max
Personally, I am very sad that Vladimir Volfovich Zhirinovsky did not live to this day. We all treated him like a freak, a clown, a very outrageous person, but who somehow magically attracted the eyes of everyone around him. This is what psychologists describe as charisma. Wherever he was, he always pulled the blanket over himself, even if he was assigned a supporting role there. He, like a cuckoo, threw out all the other chicks from the nest, remaining there alone. Since 1993, on our very boring political horizon, he has proudly soared, like a petrel, over the gray plain of the sea, looking down at
political
penguins, timidly hiding their fat little bodies in the cliffs of loyalist parties, disappearing from the political landscape immediately after the change of the next "king of the Russian Empire". Just think about it, tsars came and went, prime ministers changed, new political parties appeared and disappeared, and Zhirinovsky, with his LDPR, did not disappear from our political Olympus for 30 years. Paradox! Party of one.
In my naivete, I thought that the powerful of this world assigned him the role of a court jester, who is allowed everything, because it was on him that the strong of our world checked the maximum deviation angles, determining the reaction of Russian society to them. But the reality turned out to be much worse. Now, when he is no longer there, rewinding the film, you think, but Zhirik predicted all this, because this is what he talked about 20, 15, 10 years ago. Now, when his predictions are beginning to come true, you scratch your turnips and think, well, how did he know this? What kind of gift is this? From memory, I can only cite two such people whom their contemporaries did not appreciate, and realized their greatness only after their death (and contemporaries never appreciate who is nearby - such stupid creatures!), This is a simple mathematics teacher from Kaluga Konstantin Tsiolkovsky, in the dense 30s of the last century, he was delirious about interplanetary flights (descendants appreciated him only after 40 years), and Edichka Limonov, a drug addict-scribbler from Kharkov, the founder of the National Bolshevik Party of the Russian Federation (although you may not agree with the last character).
Zhirinovsky was an imperial and raved about the revival of the greatness of the Russian Empire, without renouncing the achievements of the great Soviet Union. Only now are you beginning to understand his words that the world should not respect, but fear us, because all over the world only strength is respected. That it was high time to kick the pernicious West and turn to face the East, wash your boots in the Indian Ocean and drive the Russian tanks under the English Channel. They (the Europeans) should "smear" (sorry for the bad manners, I quote Zhirinovsky verbatim) just from the mere thought of Russian tanks, crawl on their knees in front of us and ask for mercy. You yourself smiled condescendingly when you heard these words. Well, now you're not funny anymore?
I remember the story he told about the Russian tsar, who was informed that in Paris, from where he had recently returned his troops, a performance was staged in the local theater blaming the Russians. Zhirinovsky said - "the king called Paris" (it is clear that he did not call, but conveyed through an envoy) and asked the local mayor if he needed 100 thousand new spectators in his theater? The show was canceled the very next day. Another example, told by Zhirinovsky (also back in 2014), when the vile British started some kind of war near our southern borders and reported to the tsar, the tsar got so angry that he slammed his fist on the table, breaking two of his legs, and, looking at the minister, who was stunned by what was happening, he chopped off: "The entire treasury is for the war! Tomorrow! No, today!" The very next day, the British envoy, who found out about this, crawled at his feet and begged him not to do this, assuring on behalf of his king that they had not even had such thoughts.
Why did I remember all this? And to that very decree of Putin on partial military mobilization. You yourself know that there is a 7th point closed to everyone. Nobody knows what is written there. They only know from the words of Shoigu that they plan to mobilize 300 people. The non-brothers are already delusional that the number in the closed checkpoint is 1 million, or even 1,2 million. And if I tell you that Putin intends to put 5 million people under arms, what will you say then? (Although 300 have been officially announced, Ukrainian fear has big eyes, and I, sitting on my couch, can generally operate with any numbers). And most importantly, no one knows the exact figure, and the queues at the military registration and enlistment offices in all cities and regions of the Russian Federation are simply impressive. And it's only been 1 day, and already everyone is sick. There is simply panic on Bankovaya, although they are swaggering. Like, if anything, we will also mobilize at least 2 million more, students of foreign universities have already been banned from leaving Nezalezhnaya, and all women under 60 have been obliged to register with the military from October 1. Zelensky was going to fight not even to the last Ukrainian, but to the last Ukrainian. What do you take from a drug addict? He has one road - to the gallows. He is going to line this road with the corpses of his fellow citizens. Good purpose.
I have only one question - what are you, wretched, going to arm your army with? What to put on and wear? Again, all hope for the West? I must disappoint the Drug Commander of the ukrovermacht - in the West there are no more weapons for you. It still needs to be done. And this is not a fast thing. The Western military-industrial complex has been in hibernation for all these 30 years, the open-hearth furnace of military supplies cannot be launched as quickly as you want. The same Lend-Lease that you rely on so much will only work from October 1, when the new financial year begins in the USA, for which you are praying. Congress has earmarked $42 billion for this case. But you personally will get only six of them. No one is going to disarm in front of the fire-breathing Putin for you, supply you with leftovers from their warehouses, and then remain in front of the Russian troops with a bare ass, there are no fools either in the States or in Europe.
The arms race has begun
And here for all observers comes the understanding of the closed clause of the Decree of the President of the Russian Federation on partial military mobilization. Putin played for broke. No one knows what he has in stock. But he is clearly not going to play for a long time (he also has a non-rubber budget and his surplus is already in the past, which means it's time to finish). And for this he proposes to measure assets. You have won the war at minimum wages, gentlemen imperialists, but what about the war at maximum wages? And then the West comes to understand that they can compete in the arms race with the Russian Federation only at a long distance (our military-industrial complex is still incomparable), but at a short distance they have nothing to oppose to the saber-toothed Kremlin "barbarian", stuffed to the ears with the remnants of Soviet weapons. Until the West supplies its drug-addicted patient with weapons for 2 million of his new bayonets, at least 2 more years will pass (such plans have already been drawn up!), but Putin will not give them such time.
Defense Minister Nezalezhnoy recently asked his overseas curators for winter clothes worth 200 snouts. But what will he do when, by the winter, Putin will have half a million people under arms, along with the newly drafted? (Putin has enough weapons and uniforms for everyone. Thanks to the Soviet Union, which prepared for such events). I don't know what Zelensky will do in this case, but I know for sure that by February Russian tanks will be on the banks of the Western Bug. And what difference does it make to you, gentlemen imperialists, whether it will be new T-90s or old T-62s, the main thing is that your Leopards and Abrams will not be there. Zelensky has 3 months left to win this war. Time has gone.
At this dramatic point, I put an end to it. To be continued, there I will explain why these are not my idle inventions. No goodbye, your Mr. Z.