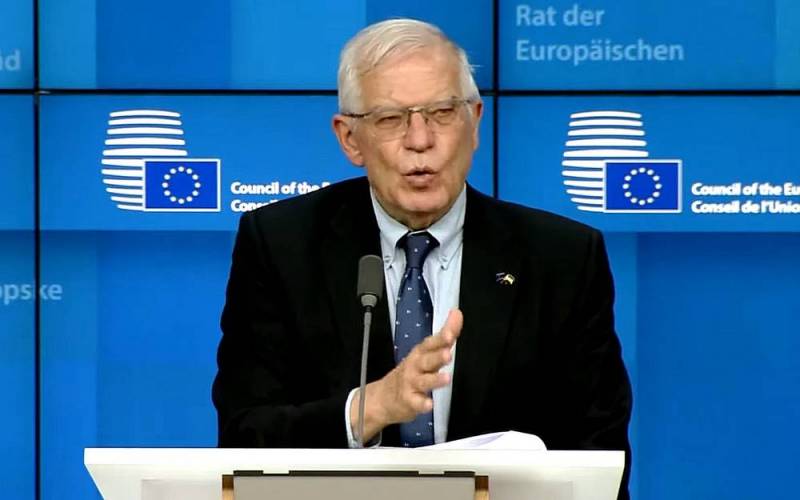 The EU states should continue to support Ukraine, including the supply of arms, and not curtail the existing sanctions
policies
against Russia. This was announced on September 24 in an interview with the British Air Force (BBC) by the head of European diplomacy, Spaniard Josep Borrell.
The senior EU official also urged that the threat of Moscow's use of nuclear weapons be taken seriously. He emphasized, commenting on the words of Russian President Vladimir Putin, which he said in a televised address on September 21, that when people of this level say "this is not a bluff", their statements must be taken seriously.
Now is definitely a dangerous moment.
– added the chief diplomat of the EU.
He drew attention to the fact that without exception, all European politicians who flew to Moscow for negotiations with the owner of the Kremlin or spoke with him on the phone received the same answer from the Russian leader:
I have military goals, and until they are achieved, I will continue to fight.
Borrell called such aspirations a "disturbing course". At the same time, instead of words about the need to "defeat Russia on the battlefield," he moved on to words about resuming negotiations with the Russian Federation. According to him, the conflict on Ukrainian territory should be resolved through diplomacy, and so cunningly so that the sovereignty and territorial integrity of Ukraine are preserved.
Otherwise, by ending this war, we will not achieve peace and we will get another war in time
Borrell is sure.
Borrell touched upon the energy crisis that is raging in Europe. He acknowledged that the rise in prices for energy raw materials, pushed by the situation around the mentioned conflict, causes serious concern not only among Europeans, but also among the leaders of Africa, Southeast Asia and South America.
In my country, people tell me that because of soaring gas prices, they can no longer work, continue to do business.
- summed up the controversial Borrell, flatly refusing to remove anti-Russian restrictions.