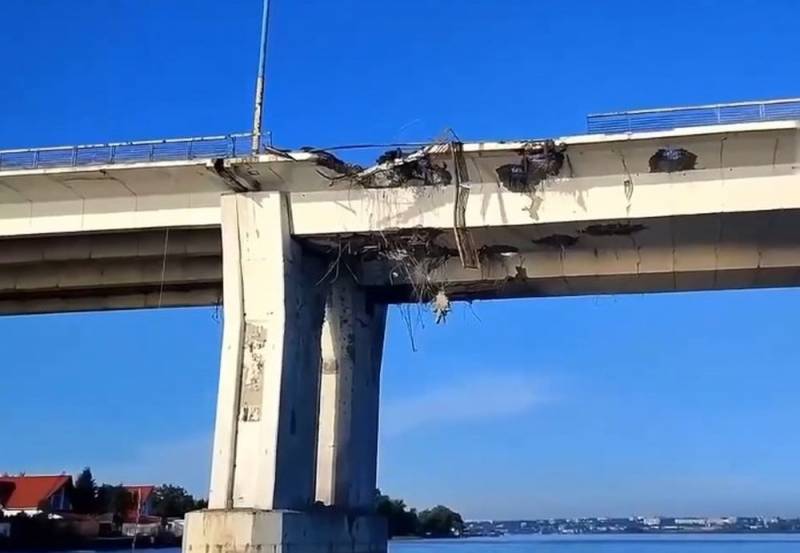 Over the past few months, the Armed Forces of Ukraine have been regularly shelling bridges and crossings across the Dnieper in the Kherson region with GMLRS ammunition from the M142 HIMARS and M270 MLRS systems in order to disrupt the supply of the RF Armed Forces on the Right Bank. Now the network has shown footage of the exact state of the Antonovsky automobile bridge across the Dnieper in Kherson.
It should be noted that the capital engineering structure really received a lot of through holes. The road surface is destroyed, but the collapse did not occur and the supports are intact.
This part of the bridge is broken
- said an eyewitness filming a video, pointing to a damaged span of a transport infrastructure facility.
Thus, despite the incessant strikes from the Ukrainian army, the bridge is still an integral structure. Such structures have a high degree of strength, but it is also limiting. With such damage, the bridge cannot be operated normally, as it needs to be repaired. But, if the shelling does not stop, then sooner or later one of its spans will not withstand and will collapse into the water, which will greatly complicate recovery.
Probably, the Armed Forces of Ukraine achieve exactly this result. However, then Ukraine will lose even the theoretical opportunity to use this 30-span bridge itself, the total length of which is 1366 meters and a width of 25 m (the width of the carriageway is 20,5 m, pedestrian sidewalks on both sides are 1,5 m each). We remind you that the Armed Forces of Ukraine already have 20 M142 HIMARS wheeled launchers for 6 ammunition each and 16 tracked launchers with a doubled ammunition load - M2 MLRS and their analogues. The Russian Ministry of Defense reported that at least 270 HIMARS were destroyed during the NWO.