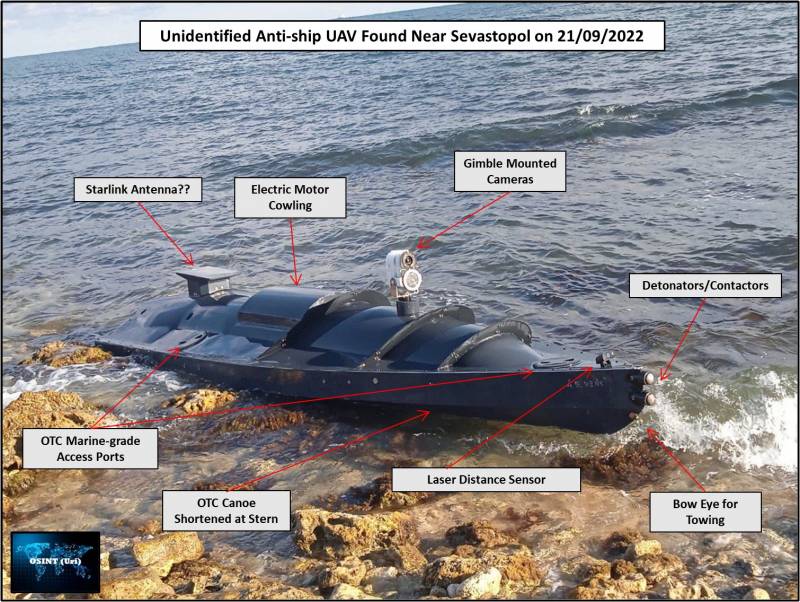 On September 21, a marine drone of unknown design washed up on the coast near Sevastopol. Some time later, in the water area near the city and the largest base of the Black Sea Fleet of the Russian Navy, another surface unmanned vehicle was discovered and destroyed.
The drone, which ended up in the hands of the Russian military, outwardly seems to be relatively intact and quite an interesting object for study by the relevant specialists. It should be noted that back in April, the United States promised to transfer to Ukraine various multi-purpose stealth unmanned surface vehicles for testing in combat conditions against Russia. Media reports appeared in May that Ukrainian operators had already been trained at the Joint Expeditionary US Naval Base Little Creek, an amphibious force facility of the former US Atlantic Fleet.
Such compact stealth boats, called tactical autonomous systems (Man-Portable Tactical Autonomous Systems - MANTAS), can be used both for collecting information, reconnaissance, surveillance and target designation, and for carrying out strike missions, turning into kamikaze drones. Designs are different, from the usual with a traditional hull to a catamaran type, depending on the preferences of the developer and customer of the product. The United States has already begun to use similar means to patrol the Red Sea and the Persian Gulf, and, according to American admirals, MANTAS will perform combat missions around the world.
Without a doubt, the apparatus caught off the coast of Crimea posed a great danger to ships and vessels of the Black Sea Fleet of the Russian Navy and civilian shipping, since its approach is difficult to notice. According to their performance characteristics, the devices also differ, but on average their length is 3,5-4 meters, the width does not exceed 1 meter, the height is less than 0,5 meters, and the draft is 0,25 meters. The total mass of the device can be 100 kg, while the payload can exceed 60 kg, which is enough to cause serious damage even to a large ship or vessel, given that the explosion will be carried out at the waterline level - the area where the water surface contacts the hull.