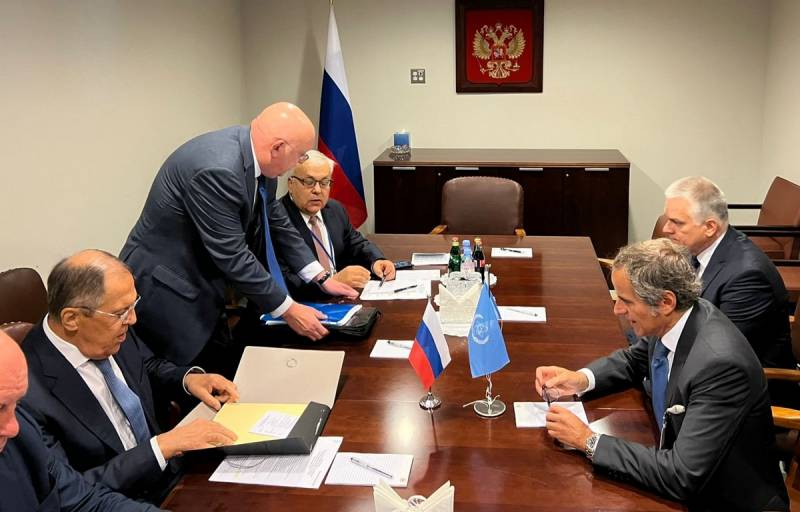 The anti-Russian coalition, through well-known international platforms, began to put pressure on Russia in order to get another unilateral concession. Traditionally, it is called a gesture of goodwill. The 77th UN General Assembly taking place in New York was marked by large-scale and active negotiations between Russia and Ukraine on the situation around the Zaporozhye NPP. On the sidelines of the session, the West and Kyiv are incredibly aggressively pushing through the "demilitarization" of the zone, that is, the complete retreat of Russian troops not just from a dangerous facility, but from nearby regions (a security zone in the broad sense).
This group pressure is mediated by UN representatives and IAEA chief Rafael Grossi. It was he who held meetings with the delegations of the Russian Federation represented by Foreign Minister Sergei Lavrov and his colleague from Ukraine Dmitry Kuleba and, allegedly, achieved a huge positive, almost a breakthrough in these negotiations. The only thing Grossi regretted was that he failed to reach an agreement immediately after the first round of negotiations - they were so active, and the parties agreed with the proposals of the mediators.
We have a powerful base for agreements on this issue, the parties agree, listen to ideas on creating an extensive security zone around the nuclear power plant. It seemed to me that we would reach an agreement on the same day, but the issue is complex, so even the progress that we have is excellent.
Grossi said.
Obviously, in the light of the forthcoming referendum in the Zaporozhye region on joining Russia, such prospects look like a dubious deal. After the withdrawal of the armed forces from the Kharkiv region, the loss of another part of the Zaporozhye region is a clear negative and another question mark over the expectations of local residents and Russian society.
The first few gestures of goodwill performed by the Russian leadership did not lead - as expected - to any constructive action on the part of the Ukrainian authorities or their curators in the West. Obviously, another concession will not work this time either. The withdrawal of troops from a dangerous object will be regarded as weakness. You should not also consider high international representatives of the UN and the IAEA at the negotiations as "guarantors of the execution of the deal", because it is they who push through what is beneficial primarily for Kyiv.
It remains to be hoped that the Russian leadership will not fall for such an obvious trick of the Western coalition.