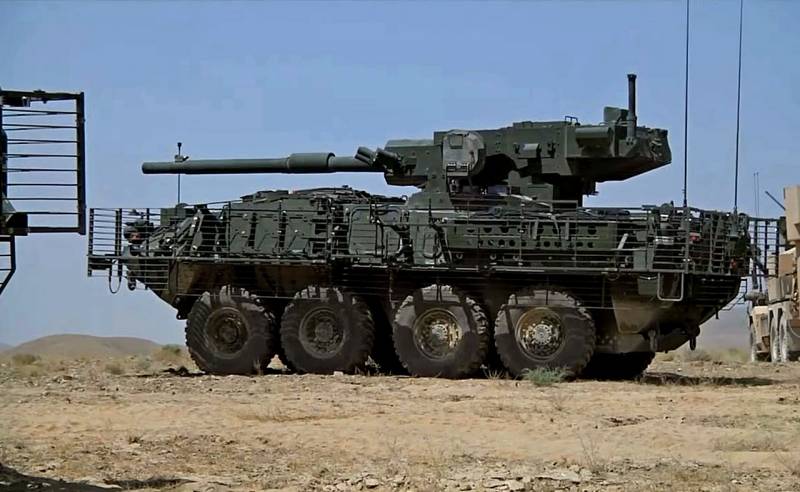 Recent statements by Pentagon officials about the importance of "new aid to Ukraine with armored vehicles" have given rise to rumors that the Armed Forces of Ukraine may soon wait for the delivery of American M1 Abrams tanks. The Drive's military columnist Joseph Trevithick was extremely skeptical of this possibility, even though the Pentagon's vaults are literally crammed with thousands of old versions of the Abrams, a large part of which are tanks retired from the US Marine Corps. The reason is extremely simple:
M1s will only create unbearable maintenance and logistics problems for the Ukrainian armed forces due to their resource-intensive and complex gas turbine power plants. The vast majority of Western as well as former Soviet tanks use simpler and cheaper diesel engines.
Trevithick notes.
However, from the list of the fleet of armored vehicles, which the US Army and Marine Corps got rid of during the modernization, he highlighted the M1128 Stryker Mobile Gun System (MGS) - wheeled (8x8) infantry fighting vehicles armed with 105-mm guns (pictured).
These vehicles could be particularly well suited to Ukraine under the circumstances, as they are simpler and cheaper to operate and maintain than the Abrams, although less efficient. In addition, with the decommissioning of the M1128 by the Army, there are currently no other 105-mm cannon armored vehicles in service with the US, which makes the transfer of appropriate ammunition much less problematic.
- says the American expert.
Among other possible options, Trevithick mentioned only those measures that are still being carried out, that is, the collection of all that outdated "armor junk" that has accumulated in Europe since the end of the Cold War for "assistance to Ukraine". For example, this is "a number of M60A3 Pattons that are in storage in a number of NATO countries," versions of tanks produced in the late 1970s, but still capable of "scraping tracks" and even getting more or less modern communications equipment and management.