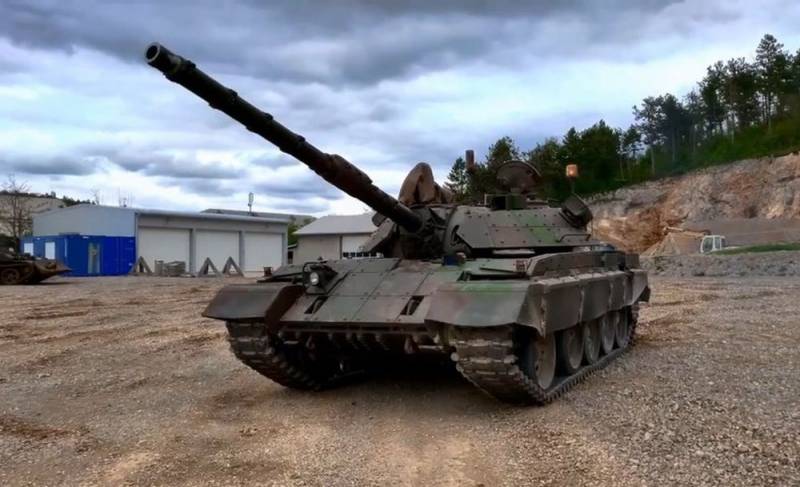 In the West, they do not stop discussing the possibilities of equipping the Armed Forces of Ukraine for further confrontation with the RF Armed Forces in Ukraine. At the same time, mass deliveries of tanks, albeit outdated, but upgraded, as well as relatively modern combat vehicles, may become the next stage in the rearmament of the Ukrainian army.
For example, Jack Detsch, a reporter for the American edition of Foreign Policy, found out that the issue of providing US tanks to the Armed Forces of Ukraine "is on the table." This was told by a representative of the Pentagon, who specified that Kyiv would still have to prove the ability to operate more modern models in order to get them at its disposal. At the same time, American CNN, referring to a high-ranking US military, informed that the transfer of tanks to Ukraine in the future is "absolutely negotiable." However, modern American tanks are not suitable for immediate transfer due to problems with training, maintenance and provision.
In turn, the governments of Slovenia and Germany agreed on the transfer of tanks to the Armed Forces of Ukraine under the "circular exchange" scheme.
technique
. But these will not be M-84 tanks, which are Yugoslav licensed copies of the Soviet T-72s, but M-55S (modernized Soviet T-55A). Ljubljana will give Kyiv 28 M-55S units, and in return Berlin will give her 35 heavy trucks (8x8) and 5 heavy tankers (8x8).
In 1999, the Israeli company Elbit Systems upgraded the T-55A to the M-55S. The engine power was increased to 600 hp. s., mounted dynamic protection "Blazer" was installed on the turret and on the forehead of the hull, rubber-fabric onboard anti-cumulative screens, the D-10T2S 100 mm gun was replaced with a 105-mm L7 gun, a Rafael modular turret on the turret with a DShK machine gun, a new control system Fotona SGS-55 fire (with integrated digital ballistic computer, laser rangefinder, gunner's sight SGS-55 with two-plane stabilizer and atmospheric sensor), observation system for commander Fotona COMTOS-55, driver's periscope Fotona CODRIS equipped with night vision devices, two six-barreled smoke grenade launcher with LIRD-1A laser sensor system. In the M-55S1 variant, the 850 hp MAN engine was placed in this tank. With.
Please note that Western countries have recently been supplying Ukraine with various artillery systems of 105 mm caliber. However, there are not many of them, and there are a very large number of 105 mm caliber projectiles transferred from the United States, which indicates the possibility of finding among them not only ammunition for artillery, but also for tanks, as well as other armored vehicles equipped with these barrels. Thus, it can be assumed that deliveries of obsolete tanks from Western countries will begin in Ukraine after some time. For example, German Leopard 1, French AMX 30 and others, including wheeled armored vehicles equipped with 105 mm guns. Moreover, the FRG operates on the principle of "being second after the allies", that is, they are simply waiting for someone to become the first in this matter.