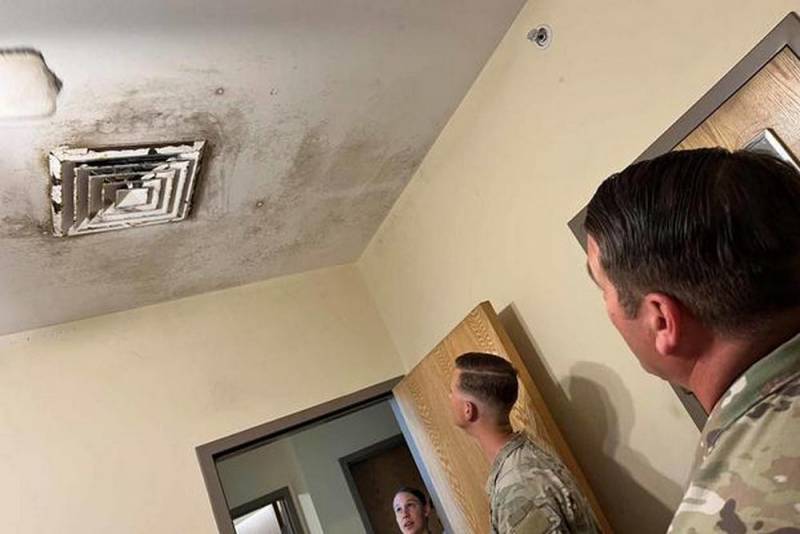 After a long trip to Europe, US Army soldiers returning to their barracks at Fort Stewart found that mold had almost completely swallowed up their living quarters. As the American military portal Military.com describes, "carpet" infection with extremely nasty and nasty spores has manifested itself not only on walls, doors and ceilings, but also quickly spreads to mattresses and equipment if they have to be left for any long time.
Broken air conditioners in the sweltering, damp heat of southern Georgia, poor ventilation, and a near-total lack of maintenance at the barracks have created a perennial breeding ground for mold, which soldiers are now trying to clean up without success.
This is the reason why many choose to leave the service.
- told Military.com one of the soldiers, who also intends to retire from the army.
Others (more than 20 military personnel, mostly privates, but also non-commissioned officers), on condition of anonymity, since they did not have the authority to communicate with the press, painted a very ugly picture:
Platoon non-commissioned officers are scolded by senior commanders for the fact that their soldiers "badly clean off" the mold; young soldiers are forced to buy cleaning and disinfecting products at their own expense, slashing their already meager salaries; and the garrison unit responsible for maintaining the premises almost never responds to these problems and invites the soldiers to fix them themselves.
According to the U.S. Centers for Disease Control and Prevention, mold exposure leads to a wide range of health problems, including nasal congestion, headaches, fatigue, wheezing, itching, fungal and respiratory infections in more severe cases. Mold can also make a person susceptible to more severe allergic reactions and lead to the development of asthma.
The problems at the Fort Stewart base are far from isolated. More recently, a similar "mold attack" hit Fort Bragg in North Carolina, the flagship garrison of the US Army, one of the largest military training centers in the world. After a significant scandal that broke out at the end of August, Pentagon Secretary of State for the Army Christine Wormuth had to personally intervene in "calming the public".
As a result, the "emergency relocation" affected about 1200 soldiers, although this procedure will be extended throughout September. Army officials had to provide some of Fort Bragg's soldiers with housing allowances to sub-rent other housing, or put them up for free in hotels on the base. But in Fort Stewart and other places where the wrath of congressmen and Wormouth was not enough, the local leadership does not even consider such a move.
Behind many of the mold problems now rampant in the US Army are old barracks, mostly built back in the 1970s. In total there are 535 VOLAR-type barracks, 30 of which are located in Fort Stewart. However, mold problems are not limited to them: military housing across the country has been in poor conditions for a long time, including infestation with mold, rodents and cockroaches.
Military.com notes.
According to the portal, the cost of overhauling each typical VOLAR barracks is about $15 million. Fort Stewart has approved a program to demolish them and replace them with new types of barracks, but this reconstruction is scheduled to be completed no earlier than 2035. Not surprisingly, in the "less official" local media, the US military and their families speak out much harsher:
The government easily finds billions for military assistance to Ukraine, while many of our own soldiers do not have a minimally comfortable place to sleep.