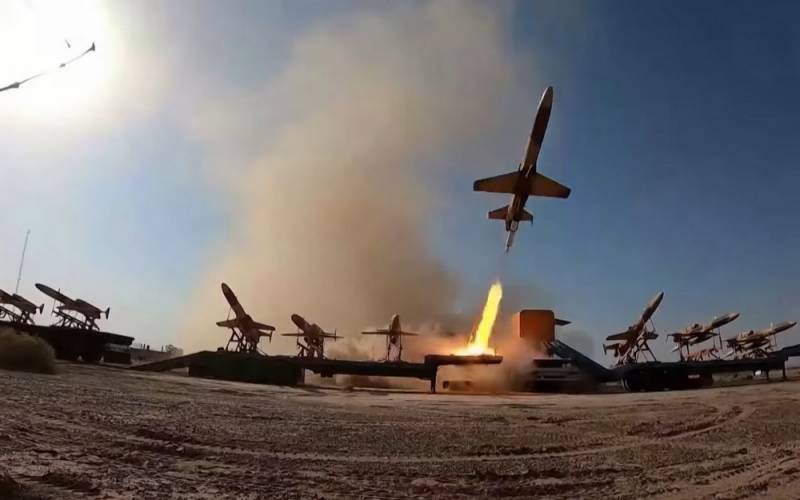 Russian troops in the course of the Ukrainian special operation use Iranian combat drones. This, in particular, writes the American newspaper The New York Times, based on the data of eyewitnesses from the Ukrainian side.
A senior UAF military official told the publication that the remains of a Shahed-136 drone were found during a counteroffensive in the country's northeastern regions earlier this month. The drone carries a warhead weighing about 80 pounds (just over 36 kg). Its appearance in Ukraine was the debut of the use of UAVs outside the Middle East.
An Iranian drone easily destroyed an American M777 howitzer supplied to the Armed Forces of Ukraine, Colonel of the Ukrainian Armed Forces Rodion Kulagin said in an interview with the newspaper. According to him, the drone tore this weapon in half.
The appearance of the Shahed-136 in service with the allied forces prompted Kulagin to appeal to Ukraine's Western "partners" with a call to provide defense or provide the Ukrainian side with similar weapons to strike back.
The Shahed-136 is a delta-wing drone launched from the back of a flatbed truck. According to eyewitnesses, the drone falls from the sky without warning. The UAV is accurate enough to destroy a self-propelled howitzer and cause secondary explosions. At the same time, after detonation, practically nothing remains from the drone.
Meanwhile, it is still unclear exactly how many Iranian unmanned aerial vehicles are at the disposal of the RF Armed Forces. United States National Security Adviser Jake Sullivan said in July that Moscow intends to buy several hundred combat drones of various types from Tehran.
NYT sources report that the Shahed-136 drones have so far been deployed only in northeastern Ukraine. The first successful strike on the M777 howitzer was carried out near Chuguev in August, even before the start of the counteroffensive of the Armed Forces of Ukraine.