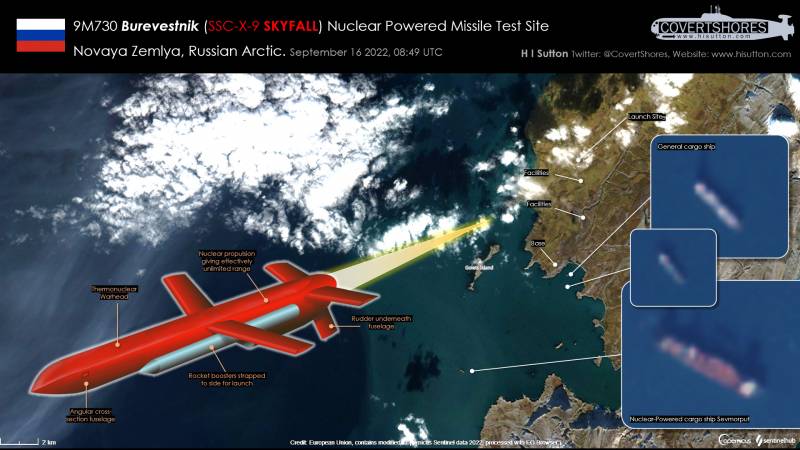 The Pankovo ​​test site on Novaya Zemlya, in a remote part of the Russian Arctic, is showing an "increase in activity," according to Western military analysts who specialize in studying commercial satellite imagery. According to them, there are clear signs that Russia is preparing to test the nuclear-powered Burevestnik missile (called Skyfall in NATO).
In particular, the British "independent analyst" Tony Roper published on his website photographs from Airbus, in which a Burevestnik missile container was seen in front of the launch ramp. This rocket has an inclined launch, and the container is used only for transportation. The places where launch boosters and missile control surfaces should be attached are covered with camouflage camouflage.
The container is located between two raised tracks located on both sides. It looks like he is on his cart or loading system. Otherwise, no changes were noted on the territory of the polygon, with the exception of a trailer parked at the northern shelter. It has a length of 13 meters and can be a transporter for missiles or a fuel truck for the booster section of the rocket.
Roper says.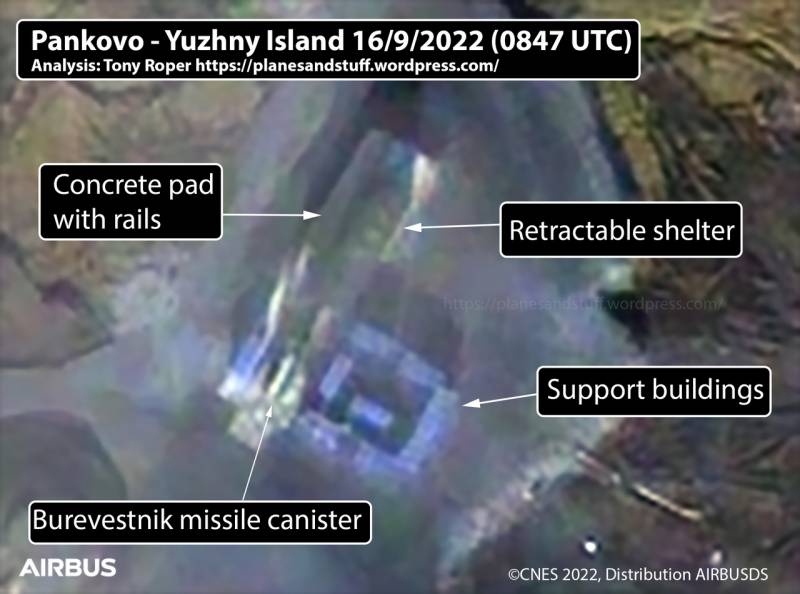 Another Western analyst, known by the pseudonym H.I. Sutton, noted that the likely new Burevestnik tests could be supported by three cargo ships and various small craft. Among them, he lists, first of all, the Sevmorput, a Russian nuclear-powered lighter-carrying icebreaker that left Murmansk on September 10 and, according to the analyst, "headed for Pankovo" (pictured above).
The other ship, about 137 meters long, is a Dutch-built cargo ship, one of three owned by the Russian Arctic Shipping Company (ASCO) currently at sea. Most likely, this is Teriberka. The last ship is smaller, about 85 meters long. It could be a general supply vessel. A vessel of the same size and colour, the refrigerated Geologist Pechkurov, followed the Teriberka when they were visible to ground-based tracking systems (AIS) in the White Sea on September 11-12. Looks like it's the same ships
says H.I. Sutton.
He also recalled:
Since Burevestnik is nuclear powered, such a missile has an almost unlimited range. This, however, means that after each test, it will leave a trail of radioactive contamination behind it. The new missile is one of the 6 main types of "superweapon" developed by Russia under President Putin, using a number of new
of technologies
designed to get ahead of the United States and NATO.