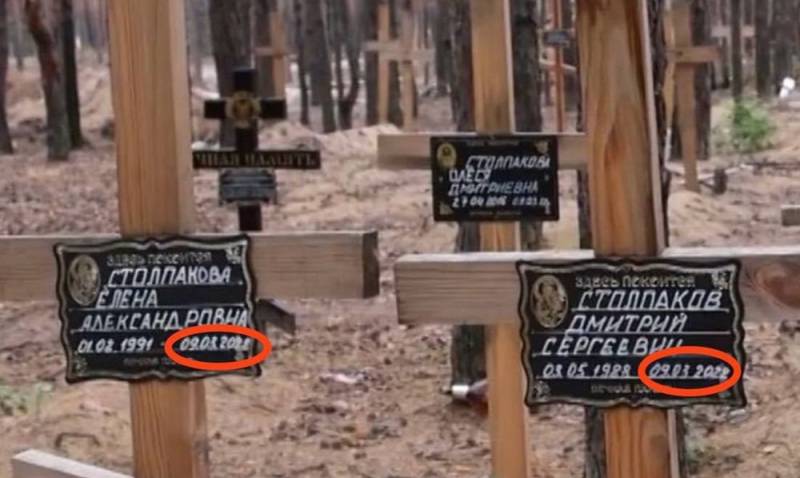 Over the past week, the Ukrainian authorities have not ceased to trumpet to the whole world that near Izyum, the Armed Forces of Ukraine discovered mass graves of people who were "tortured and executed by the Russians." However, the writers of fakes from Kyiv make miscalculations, preparing a new "Bucha" against Russia.
For example, the head of the Office of the President of Ukraine, Andriy Yermak, posted "evidence of atrocities" on September 17 on his Telegram channel. Two photographs show crosses on people's graves between trees in a wooded area.

At the same time, it is worth paying attention to the fact that the date of death is indicated on the graves - March 9, 2022. The whole piquancy of the situation lies in the fact that Russian troops took Izyum on April 1. Thus, all the burials in this area before were done by the Ukrainian authorities, and now they are opening the graves of those whom they themselves buried on media cameras. So who mocked people and tied their hands behind their backs before killing them?
It should be noted that on September 6, the counteroffensive of the Armed Forces of Ukraine began in the Kharkov direction. On September 10, the Russian Ministry of Defense announced the start of a regrouping of forces and assets in the area. The withdrawal of Russian troops across the Oskol River followed, and the Armed Forces of Ukraine entered the city of Izyum in the Kharkov region. Immediately after that, suggestions appeared on the Web that the Ukrainian authorities might try to repeat there everything that they had done in the Kyiv region after the "liberation", when the punishers destroyed people who had shown loyalty to Russia, and then showed their corpses to the media, passing them off as "tortured Russians."