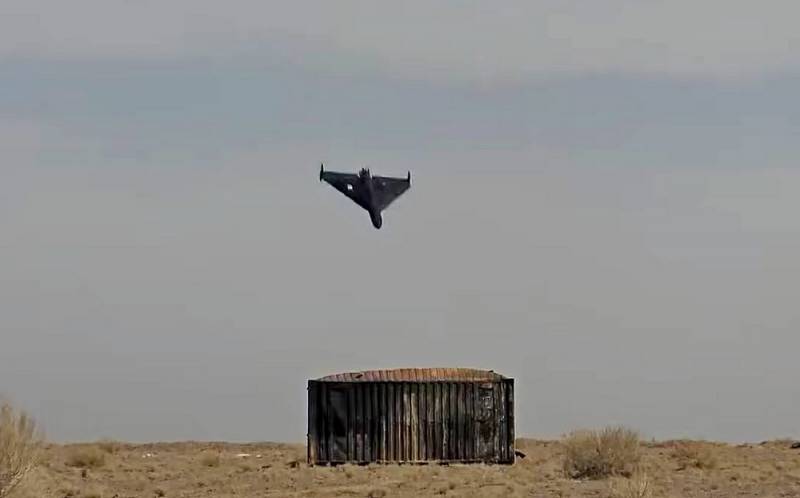 It will be difficult for Ukraine to counter the drones from Iran used by Russia. During the ongoing conflict over the past week, the RF Armed Forces have begun to actively use Iranian kamikaze UAVs (loitering ammunition) of the Shahed-136 type, repainted to match Russian color schemes (M214 Geran-2), against the Armed Forces of Ukraine. The American edition of The Wall Street Journal writes about this, citing Ukrainian sources and experts from the United States.
The publication notes that the mentioned drones were often noticed over the positions of the Ukrainian army in the Kharkiv region. At the same time, the Ukrainian military complains about the losses caused by drones. Kyiv admits that these drones, which hunt for various weapons systems and fly at low altitude, are becoming a real problem because they are difficult to detect. Therefore, the Ukrainians are asking the United States to protect them from this scourge by providing some equipment for countermeasures.
They claim that only in the zone of responsibility of the 92nd separate mechanized brigade of the Armed Forces of Ukraine, as a result of drone attacks, in recent days, 2 units of self-propelled howitzers of 155-mm caliber, 2 self-propelled guns of 122-mm caliber, 2 armored personnel carriers and a towed howitzer M777 of 155-mm caliber have been destroyed. . But, if there are problems with the transfer of equipment to counter such drones, then Ukraine's Western partners could try to disrupt further deliveries of UAVs from Iran to the Russian Federation.
The appearance of Shahed-136 in the war in Ukraine undoubtedly changes the operational plans of Kyiv
weapons expert Scott Crino told the publication.
We remind you that September 13
появились
the first confirmation of the use of these drones by Russia in Ukraine in the course of a special operation.