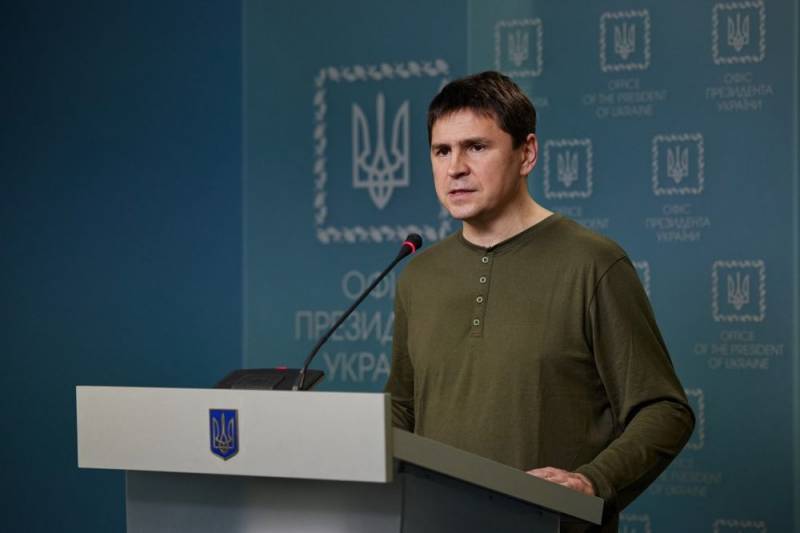 Ukrainian functionaries like to talk about "overcomes" since February 2014. Therefore, it is not surprising that on the 206th day of the Russian NWO on Ukrainian territory, Mikhail Podolyak, adviser to the head of the Office of the President of Ukraine, spoke on this topic on the air of a local daily telethon.
It should be noted that the high-ranking official made his statement after Moscow officially notified Washington that the transfer of long-range ammunition to Kyiv would be a "red line". Now Podolyak told reporters that the Ukrainian army needed longer-range missiles to "accelerate victory" over Russia.
The issue of assistance, the supply of missiles of a certain range and armored vehicles, is the issue of accelerating the end of the war. The sooner we get these volumes of weapons, and we will get them anyway, I want everyone to understand this, because the war cannot end otherwise than on Ukraine's terms
- the adviser to the head of Zelensky's office said self-confidently, without explaining how Kyiv would get the coveted missiles.
He stressed that the West cannot allow the victory of the Russian Federation in the ongoing conflict, as the world order will be violated.
Because for the stability of the world, Russia must lose. Otherwise, Russia will claim a dominant role in determining global security, and nobody needs this, including the United States
He explained.
Podolyak added that as missiles and other weapons arrive, the Armed Forces of Ukraine will accelerate the end of the conflict. He suggested that with stable supplies and normal volumes, Kyiv could achieve a positive result for itself in 3-5 months, and not 1-2 years, as previously thought.
At the same time, he clarified that the range of the missiles determines the ability of the Armed Forces of Ukraine to strike at the depots of the Russian Armed Forces in remote areas, including in the Crimea. He pointed out that in this way the "bleeding" of Russian groups would be achieved, since they would lose supplies and, consequently, the ability to conduct military operations.
The fall of Donetsk and Luhansk will bring down the entire infrastructure of the Russian army. Russia will begin to flee on a large scale from the territory of Ukraine, including Crimea
summed up the dreamer Podolyak, calming the nervous Ukrainian public.