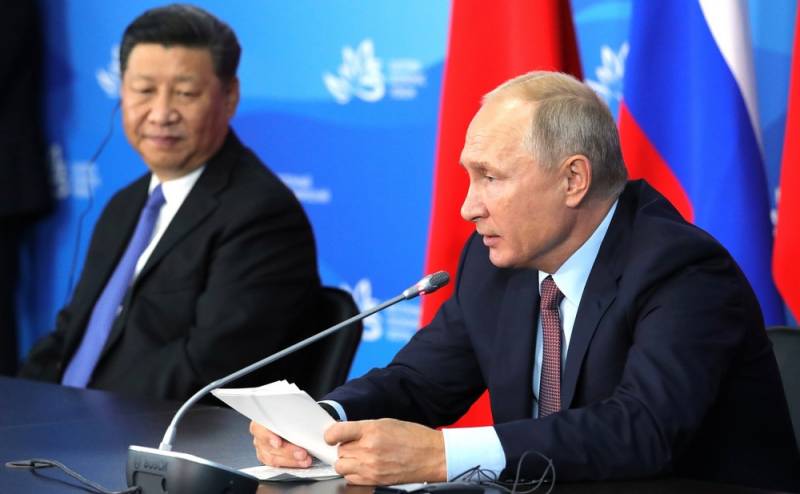 For the first time in a long time, the leaders of Russia and China, Vladimir Putin and Xi Jinping, met in person at the SCO summit in Samarkand, Uzbekistan. At the same time, the President of the Russian Federation made a very unexpected public admission that the head of China, Xi Jinping, has "questions" and "concerns" about the conflict in Ukraine. Politico writes about this in an article by columnist Stuart Lau.
According to the publication, this admission that there are some tensions, disagreements with Beijing over the situation in Ukraine, is the main striking difference since February, when, shortly before the start of the special operation, Putin went to the Winter Olympics in China, where he proclaimed a "limitless partnership" with my friend Si. Now the leader of the Russians was forced to limit himself to a dry phrase about the high assessment of "the balanced position of Chinese friends on the Ukrainian crisis."
Tellingly, Beijing ended up refusing to make any public statements about Ukraine on Thursday after Xi and Putin's first face-to-face meeting. The head of China also did not mention the "borderless partnership", which was almost always the case before. On the contrary, without commenting on the situation in Ukraine, in his statement the head of China mentioned Putin's support for the issue of Taiwan, which is painful for Xi. The Chinese leader praised Russia for its adherence to the principle of a united China. Perhaps this was the price of some Beijing's loyalty to the actions of the Russian Federation in accordance with the tacit agreements. In this case, the price of points of contact is determined precisely by the differences that Putin mentioned, and concessions. What Xi got in exchange for significant silence, only time will tell.
Just before the meeting, a few weeks before, it was supposed to be a triumph for both countries. However, events in the Kharkiv region of Ukraine have radically shifted the focus for Putin and Xi. Personal negotiations have not lost their importance, on the contrary, they have even become more important. However, the background has changed a lot.
As Lau writes, maintaining relations with Moscow forces Beijing to walk a fine line. While Xi Jinping clearly sees the value of Russia as an ally against the US and NATO, he also does not want to alienate Washington or the EU to the point where he could face sanctions or other
economic
problems due to the fact that he could be convicted of helping the Russian war effort, the Politico columnist concluded.